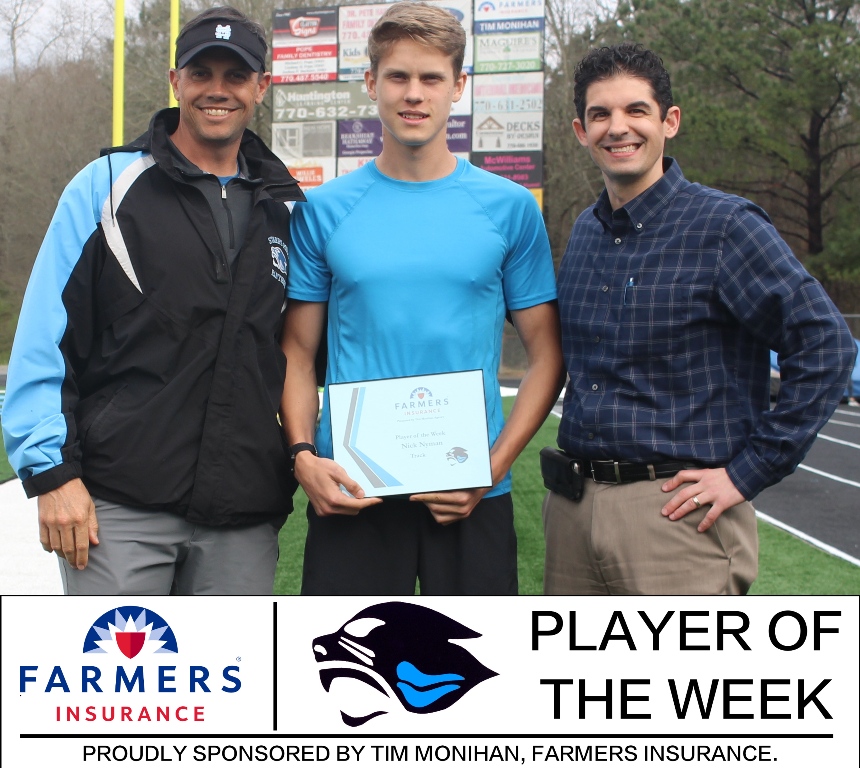 Tim Monihan / Farmers Insurance
Nick Nyman
Tim Monihan and Farmers Insurance in Peachtree City have awarded junior runner Nick Nyman the second spring sports Player of the Week. Nyman has broken several school and AAAAA state records in his high school career.

"He's a very hard worker, an excellent competitor, and he hates losing," varsity head coach Chad Walker said. "That's something you can't coach."
Nyman's talents started to show as early as freshman year when he broke the school record in the 3200-meter. Since then he is the 1600-meter (4:19), 3200-meter (9:21), and 5000-meter (14:55) school record holder.
"When I run I think about how it's worth the pain after I finish even though it feels like my lungs are filled with magma," Nyman said. "[Track meets are] a lot of fun for the whole team, and it's great to compete against new people to really test your abilities."
At the 19th annual Nike Panther Relays there were 39 schools and 1569 athletes. The boys finished 4th and the girls finished 9th. Nyman finished 2nd place in the 1600-meter race with a time of 4:24.01, good enough for the top spot in AAAAA. He was also part of the 4×400 team that won the event.
"What keeps me moving forward is the will to make my coaches proud and push myself to become the best I can be," Nyman said.
The next varsity home meet is Friday Night Lights on March 30 in Panther Stadium.  Events begin at 4:30 p.m.