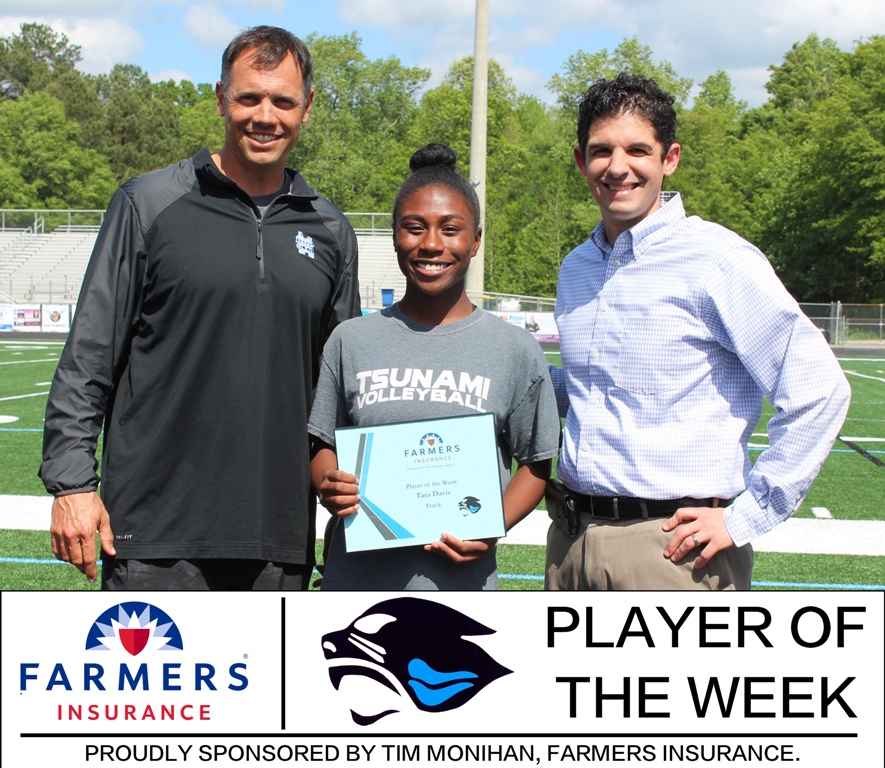 Courtesy of Tim Monihan / Farmers Insurance
Tara Davis
Tim Monihan and Farmers Insurance in Peachtree City have awarded junior runner Tara Davis  with the ninth spring sports Player of the Week.
"She's very disciplined and hard-working," varsity track and field head coach Chad Walker said. "Tara always comes to practice with a great attitude and is a leader for the sprinters."
Davis is the only sprinter on the track team that runs cross country during the season. Davis started her track career five years ago in the 7th grade. She currently holds the school record in the 4×400-meter relay with a time of 3:56.

"Before every event or race, I always pray," Davis said. "It's an honor to run on the team, and getting better at every practice."
Tara Davis ran well in back-to-back meets at McEachern and the region championships hosted at Starr's Mill. She had two PR's at region in the 400-meter, where she placed second with a time of 58.36 seconds, and the 200-meter race, where she placed third with a time of 25.66 seconds.
Davis also runs on the 4×100-meter and 4×400-meter relay teams.
"She's come out really strong and has ran the fastest out of all them," Walker said. "She has really stepped up, come out of her shell, and became consistent."
Tara will participate in the AAAAA track and field state championships hosted in Carrollton on May 10-12.