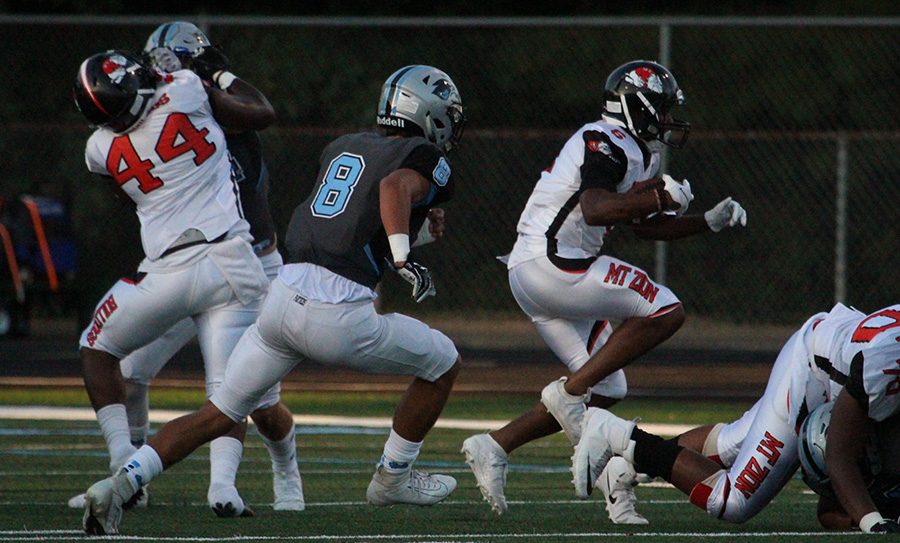 Gameday Takeaways, Week 1
Three notes from Panther season opener
September 5, 2019
Last Friday, the Panther football team opened their season at home against the Mt. Zion High School Bulldogs. A defensive-minded game throughout the first half, the Mill finally found the end zone in the second half, winning 14-8. Here are three takeaways from the contest.
Special teams = secret weapon
Despite losing Michael Lantz, the Panthers found two strong kickers from the soccer field. Senior Christian Castillo and junior Connor Marke each were booming kickoffs to the opposing end zone, just like Lantz did. Also, Castillo nailed each of his PATs.  
Besides kicking, junior punter Gavin Necessary punted away six balls for 259 yards, averaging about 43 yards per punt. Kick returners junior Wes Haney, sophomore Brandon Mathis, and senior Owen Phillips each showed signs of blossoming. 
One thing's for certain — opponents better watch out for this special teams unit.
Sims had slower start than normal
Things started slower for senior running back Kalen Sims, who only ran for 63 yards on 12 carries, compared to 243 yards on 16 carries with two touchdowns the last time these two teams met. 
Whether he was off his game last Friday or Mt. Zion figured out how to contain his powerful running attack, fans will be hoping he can turn it around in the coming weeks against Northgate, a team he rushed for 148 yards and three touchdowns against last season.
Defense, defense, defense
The Panthers went and got themselves a defense this season, holding Mt. Zion to only eight points. 
With key contributors including juniors Cole Bishop and Wes Haney, and sophomore Barrett Schmidlkofer, this defense could possibly never give up more than 14 points a game, setting up a bright future for a dominant Panther defense. 
The team's non-region games will certainly test the might of this young group. First, Starr's Mill will face Northgate, who put up 277 total yards a season ago, and Chapel Hill, who amassed a whopping 501 yards last season. Starr's Mill finishes the month with a trip to Sandy Creek to play a Patriots team that is averaging 47.5 points per game.
What to watch for this week: 
With less than 100 rushing yards last week, is a bounce back imminent?
Running is made a priority in the Panther offense, and usually at least one Panther has 100 or more yards a game. Not a single Panther broke 100 yards in the win over Mt. Zion, with senior Ben Bodne being closest at 98 yards. However, Sims rushed for over 100 yards in seven of 11 games last season. 
If the Panther defense holds and one or more backs runs for 100+ yards, Starr's Mill could celebrate starting the season 2-0 as Homecoming Week begins.
Starr's Mill takes the field in Newnan tomorrow against Northgate. Kickoff is set for 7:30 p.m.