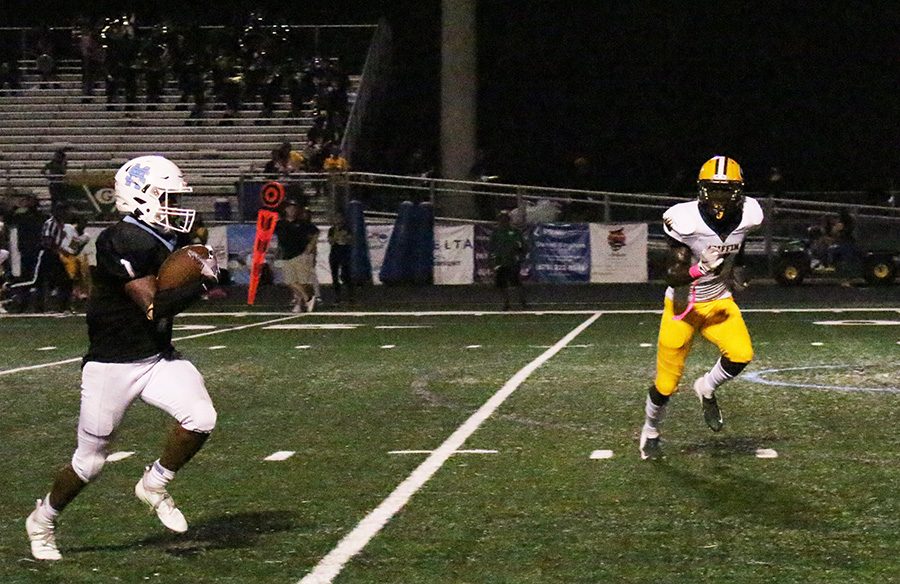 Gameday Takeaways, Week 6
Three notes following a big-time region contest
October 8, 2019
Last week, the Panthers returned to Panther Stadium to take on the Griffin High School Bears. Griffin, who was undefeated and ranked 10th in the state prior to the game, were heavy favorites to win the region. However, Starr's Mill proved why they have been one of the best in the region, winning 38-35. Here are three notes from the contest.
I was wrong
Yes. You read that right. When I predicted how Region 3-AAAA would play out, I was wrong for two reasons. One, the Panthers are still clearly contenders in the region, and that point was proven against Griffin. Two, Whitewater may be a little better than expected. 
"
[T]he Panthers are still clearly contenders in the region, and that point was proven against Griffin."
— Sports Editor Ben Barkley
Revenge was on the Panthers' mind following their loss to Jonesboro. They proved all the naysayers wrong, playing their best all around game in the win over the Bears.
Two weeks ago, Whitewater was able to hang with Griffin through the first half of play. After forcing five turnovers in their 21-20 win over Jonesboro, the Wildcats have proven they may win a few more games down the road. However, there is still more work for them to do, and having the Panthers this week won't help.
Trust the Process
The Panthers have now worked out all the kinks, and are turning into the team everyone expected them to be: a run heavy offense that has a steady pass game when needed, and a defense to match.  
With region play just getting started, look for Starr's Mill to make even more improvements, specifically defensively, in hopes of their fourth straight region championship. 
Luckily for the defense, Whitewater is only averaging about 11.6 points a game, giving the defense a great opportunity to show their might.
Fear the leg
Fear the leg indeed. Junior Connor Marke, who has been out with an injury since the beginning of the season, played in his first game last week. 
Boy did he impress. Multiple kickoffs straight to the other end zone, and a game-winning 50-yard field goal in his first field goal attempt ever. Not bad for game one. Look for a bright future for this kid, possibly Michael Lantz 2.0.
What to watch for this week:
Some people are saying that the Panthers next matchup against Whitewater might not be as easy as they think. The Wildcats are coming off a stunning 21-20 victory over Jonesboro, the team that gave Starr's Mill its first region loss since 2017. 
However, one lucky win will not be enough to turn the Wildcat season around, as the Panthers have found a rhythm at the right time, and should be able to defeat a rebuilding Wildcat team.
The Panthers stay home to take on the Wildcats next week in a pink out. Kickoff is set for 7:30 p.m.