Who runs this show?
Region 3-AAAAA predictions
For the past three seasons, the Starr's Mill Panther football team has ran the table in region 3-AAAAA, winning three straight region championships. However, with tougher region opponents outside of the county, the quest for history may be more bumpy than most people expect. 
Here is how Region 3-AAAAA will go down.
No. 7: Whitewater Wildcats
Just two short years ago, Whitewater was one of the tougher teams in the region, going 5-1 and making the state playoffs. Last season was a nightmare, as the team finished 1-9 and did not qualify for state for the first time since 2015. 
This season, the team has started winless, getting outscored 147-35 in losses against Sandy Creek, Ola, Northside, and Chapel Hill. Senior Maddox Mueller is trying to keep the ship afloat, leading the team in passing and rushing yards, but one player won't be enough to right the ship.
Projected region record: 0-6
Plays at Starr's Mill Oct. 11
No. 6: McIntosh Chiefs
Injuries can easily derail a team's season. Last season, it was McIntosh's turn to take the bug. Only a year after they almost beat Stockbridge in the first round of state, Dane Kinamon got injured in the first game, and Burton Hahn went down right after that, leaving the Chiefs without a top-caliber quarterback, and struggling through a 3-7 record. 
However, the Chiefs have finally found the answer at quarterback. Sophomore Hayes Herzog gives the Chiefs the fire at quarterback they have sorely been lacking since Kinamon's injury. However, just like Whitewater, one player cannot give immediate success. Expect a second straight year of no playoffs.
Projected region record: 1-5
Hosts Starr's Mill Oct. 18
No. 5: Fayette County Tigers
Hard work has paid off for Fayette County. After going winless last season, the Tigers restarted, hiring a new head coach in Nick Davis. The change instantly brought success, as they barely lost their season opener to Hampton, and defeated Pike County for their first win in 16 games.
Senior Jekobe Coleman has greatly improved at quarterback over the course of the first four games, and the Tiger defense had their first convincing win against Spalding 27-16. There's still a lot of room to grow for these Tigers, but they are heading in the right direction. 
Projected region record: 2-4
Plays at Starr's Mill Nov. 8
No. 4: Jonesboro Cardinals
Jonesboro has continued to shock a lot of people, improving over the last three seasons and finishing fourth in the region last year. The Cardinal defense allowed only 32 points through the first three games, and battled hard in a double overtime loss to Ware County two weeks ago. 
They can easily win games with size alone, as their offensive and defensive lines are absolutely enormous, and their run game, led by senior Nazim Whitaker and junior Jacques Thomas has been strong. Look for another season of development, and a playoff berth.
Projected region record: 3-3
Hosts Starr's Mill Sept. 27
No. 3: Riverdale Raiders
Once a laughing stock in the region, Riverdale has quietly become a strong force, starting the season at 3-1, a better record than the Panthers. Besides their loss to Carrollton, the Raider defense has limited their opponents to a mere seven points, only giving up one touchdown to Drew.
Offensively, they're averaging 39.5 points a game, and for that, they have junior quarterback Auvan Tucker to thank. He has thrown for 298 yards and six touchdowns so far on the season, and with his success, they can easily return to the first round of state and beyond.
Projected region record: 4-2
Hosts Starr's Mill Nov. 1
No. 2: Starr's Mill Panthers
I know, I know. I'll probably be getting angry emails for putting our beloved Panthers at second, ruining our chance at history. However, the fact of the matter is this: our team is still extremely young, with only a handful of seniors starting on both sides of the ball. 
Offensively, the Panther run game — when it's firing on all cylinders — can win games, but if it isn't, scoring comes down to our pass game, which has only had one good game.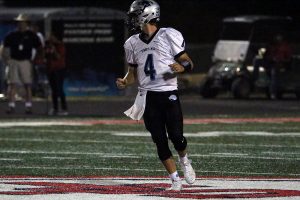 Defensively, the team has proven itself despite losing junior Wes Haney against Northgate. However, after Jonesboro, the team faces Griffin, a mighty, high-powered offense that may possibly dethrone Starr's Mill this year. Playoff-wise, if they get a two seed, it could spell another early exit, but a one seed could catapult them beyond that. 
Projected region record: 5-1
No. 1: Griffin Bears
After another strong season where they only lost to the Panthers in region play, the Bears have come out of the gates hot, starting 4-0 and outscoring their opponents 138-19.
With an offense averaging 34.5 points a game, Griffin makes the offensive side of the ball look easy. It all starts with senior quarterback Darshaveious Foster, who has thrown for 753 yards and seven touchdowns so far. That gives opposing secondary units a hard time for 48 minutes. 
Foster also has an elite group of receivers to throw to. Senior Jamoi Mayes and junior Quamari Williams each have over 200 receiving yards so far. Senior Terrell Jester, who has nearly 200 yards on the season, brings a third option that's sure to test any secondary.
In the backfield, senior Aalijah King has ran for 359 yards and seven touchdowns, adding to the most threatening offense in the region.
If a firepower offense wasn't enough, they have a defense to match. Senior Jaden Echols leads the team in tackles with 16. Senior Damarjhe Lewis and junior Davari Wright are sack machines with three apiece. 
Projected region record: 6-0
Plays at Starr's Mill Oct. 4
So there you have it. The predicted region standings for this season. From a new region champion to only one team from Fayette County making the playoffs, look for region play to be as wild as ever.
View Comments (1)