Panther defense shuts out Tigers, team clinches region perfection
When the season started, the biggest weakness for Starr's Mill seemed to be a sloppy defense that gave up too many points. The defense, and the team as a whole, developed as the year went on, and they finished off the season with a 27-0 shut out of Fayette County.
While the offense put up 27 points, eight points below their season average, the Starr's Mill defense only allowed 51 total yards en route to their first shut out of the year. The big win finished off a perfect region run that included a third straight region championship.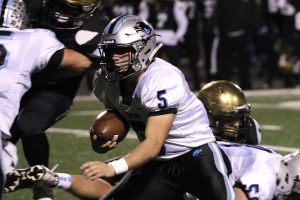 "We came out here and didn't play great, but we played well enough," head coach Chad Phillips said. "Any win is a good win. Now we have a one-week season."
Junior Ardit Hoti led the Panther backfield with 113 rushing yards and a touchdown on 18 carries, while senior Jalen Lazenby and junior Kalen Sims combined for another 152 yards and one touchdown. Of the Mill's 339 total yards, 319 came on the ground. Junior quarterback Hunter Lawson added an aerial touchdown against the Tigers.
Junior Tiger quarterback Jakobe Coleman completed 10 of his 15 pass attempts for 55 yards, but his backfield finished with a net total of -4 yards. Fayette County also racked up seven penalties that cost them 72 yards. All seven of their drives resulted in punts.The loss marked the tenth of the season for the Tigers, giving them a final record of 0-10.
"We're gonna continue to work," Sims said. "Now we're approaching the postseason like it's a new season. We're gonna keep working hard though."
Starr's Mill opened the game with a field goal following a Fayette County punt. The Panther defense got a quick stop and senior Michael Lantz rewarded them with three points on a 50-yard field goal. Later in the quarter, Sims broke off a 45-yard touchdown run that extended the lead to 10-0. The Tigers were struggling to pick up any yardage while the Panthers continued to build on their lead.
Early in the second quarter, Lawson connected with sophomore Cole Bishop on an 18-yard touchdown pass. The extra point put the Mill up 17-0 with over 11 minutes left until halftime. Neither team was able to score for the rest of the quarter, resulting in a 17-point halftime lead for Starr's Mill.
"I'm proud of our resilience, I'm proud of our commitment, and I'm proud of how well they play as a unit," Phillips said.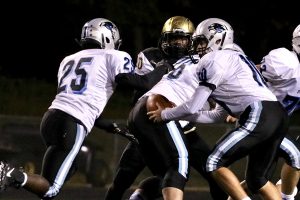 The second half saw much of the same from both teams. Fayette County failed to move the ball while the Panthers slowly increased their lead. The Mill opened the second half with a scoring drive that was finished off by Hoti, who scored on a 10-yard touchdown run. The Tigers followed with a punt that allowed more points from Starr's Mill. A 13-play, 26-yard drive concluded with a 48-yard field goal from Lantz, increasing the lead to 27-0. Fayette County then punted again, and the Panthers drained out the rest of the clock.
Following the final buzzer, Starr's Mill received the region championship trophy and celebrated their third consecutive region title. While their previous two championships were decided by tiebreakers, the Panthers were outright champions this year, going a flawless 6-0 in region play. The run was bookended by a 38-6 route of Jonesboro and a 27-0 shut out of Fayette County.
"The defense played really well," senior Sean King said. "Coming into the game, we know we couldn't give up the deep ball, and we did a good job covering that."
Starr's Mill averaged 35.1 points per game and allowed 23.1. In region play, however, the Panther defense only allowed an average of 11.3 points per game. They averaged 364 total yards per game, with 318 of them being rushing yards.
Sims led the team in rushing with 1,472 yards and 17 touchdowns. Behind him is Hoti, who racked up 708 yards and four touchdowns. Lawson added 248 yards and six touchdowns, and threw for 432 yards and another six touchdowns despite the run-heavy nature of the Mill. His leading receiver was King, who totaled 241 yards and three touchdowns.
"
We started the year rough but got to region play and hit the ground running."
— senior Sean King
The defense forced 11 turnovers this year, with six of them being interceptions. Of the six picks, King had three and was a vocal leader for the team all year.
Sophomore safety Wes Haney averaged almost 14 yards per punt return, including a punt-return touchdown earlier in the year.
The Panthers who started slow at 1-3 evolved into an all-around powerhouse ready for a playoff run.
"This team has been through a lot," King said. "We started the year rough but got to region play and hit the ground running."
No. 1 seed Starr's Mill will be the lone team from Fayette County representing Region 3-AAAAA in the GHSA State Playoffs. The No. 2 seed in the region is Griffin, who was 5-1 in the region, losing only to Starr's Mill. The No. 3 seed is Riverdale, who boasts a 4-2 region record, and behind them is Jonesboro at 3-3.
The Panther postseason starts with a matchup against New Hampstead. The Phoenix are 4-5 this year and finished as the No. 4 seed in their region with a record of 1-3 against those opponents. They travel to the Mill looking for an upset while the Panthers seek to start another deep playoff run.
The matchup is at 7:30 p.m. on Nov. 9 at Panther Stadium.