Panthers open region play in blowout fashion
The Panthers entered last Friday's game on a three-game losing streak in which they were outscored 135-69. They used their homecoming game against Jonesboro to bounce back and open the region schedule with a win, thrashing the Cardinals 38-6.
"[The win] was good for us, we needed some positive reinforcement," head coach Chad Phillips said. "I'm just glad to see the boys bounce back."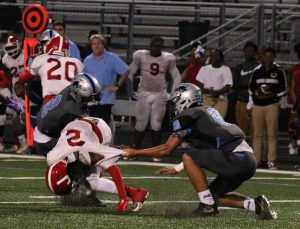 Junior Ardit Hoti led the Panthers in rushing with 139 yards and a touchdown on 17 carries. Junior Kalen Sims added another 97 yards and a touchdown, and junior Karsen Kalen contributed 51 yards and a score. Junior quarterback Hunter Lawson completed two of his five pass attempts for 51 yards and a touchdown.
The Cardinal offense struggled to do much of anything, only accumulating 122 yards on the night. Junior quarterback Tremir Alexis was 9 of 15, totaling 51 yards, one touchdown, and one interception.
"The past three weeks our defense hasn't really shown up," senior safety Sean King said. "This week we came out and played hard and good things happened."
The Panthers received the opening kickoff but failed to do anything with the possession. They gained one first down, but were then forced to punt. The Jonesboro offense took the field, but the Panther defense shut them down, forcing a three-and-out. On their second series, the Starr's Mill offense began to the move the ball. Junior Ben Bodne broke off a 27-yard run on a fake punt, and Hoti followed with a 13-yard gain the next play. Later in the drive, Bodne sprinted for a 26-yard gain, and Sims scored on the following play. Senior kicker Michael Lantz drilled the PAT to put the Panthers up 7-0.
Jonesboro was able to pick up a first down on their second drive, but still only managed a punt. However, the Cardinal defense stepped up and recovered a Lawson fumble  on the ensuing Starr's Mill drive. Despite the help from the defense, the Jonesboro offense punted for the third time on their next drive.
"We just have to work hard," Phillips said. "Hard work gives you a chance no matter who you are playing."
Starr's Mill took advantage of their defensive stops, as the offense marched down the field and extended the lead. On the second play of the drive, Sims found a hole and burst past the Cardinal defense for a 19-yard gain. Two plays later, Lawson connected with King on a 31-yard pass, and on the next play Kalen took a handoff 31 yards to the endzone. With 7:27 left until halftime, the Panthers led 14-0.
With another possession came another punt for Jonesboro. They picked up 24 yards on the drive, but failed to come up with any points. However, the defense stepped up and forced another fumble from Lawson. One play later, Alexis threw a pass that was intercepted by King. The Cardinal defense stayed strong again, forcing a punt.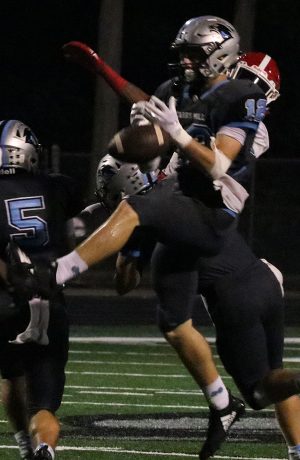 "Our defensive line has to keep playing hard," King said. "This defense is really gonna turn it on."
After starting the game with four punts and an interception, Jonesboro finally put together a scoring drive. The four-play, 53-yard drive was finished off by a 10-yard touchdown pass from Alexis to junior Rasheed Singleton. The extra point was blocked, and Starr's Mill held a 14-6 lead with 33 seconds left in the half.
Senior Jalen Lazenby received the kickoff at the 1-yard line and sprinted down to the Jonesboro 42-yard line. Sims ran for 10 yards, setting up a 49-yard field goal for Lantz, who nailed the kick to give the Panthers a 17-6 lead at halftime.
"Special teams were huge tonight," Phillips said. "We constantly preach that you have to win that one-third of the game."
Jonesboro opened the second half with another punt, their fifth on seven possessions. Starr's Mill responded with a 13-play, 69-yard drive that ended with a missed field goal attempt from Lantz. However, the Cardinals offense continued to struggle and punted again. The Panthers then executed a three-play, 48-yard drive that extended their lead. After Kalen and Sims each received a handoff, Hoti broke off a 33-yard touchdown to put the Mill up 24-6.
The Starr's Mill defense continued to dominate Jonesboro. The Cardinals tried running and passing, but the Panther defense forced another punt. The Starr's Mill offense returned to the field and ran all over the Jonesboro defense. Hoti and Sims shared the ball and slowly drove down the field. Lazenby scored on a 3-yard touchdown that capped off an eight-play, 54-yard drive.
Jonesboro only managed punts throughout the rest of the game, except for an interception on their final drive, and they finished with nine punts on twelve possessions. With two minutes left in the game, Lawson connected on a 30-yard touchdown pass to freshman Malachi Townsend to close out the 38-6 victory on homecoming night.
"I'm excited for the team. We really bounced back," Lawson said. "Our running backs really brought it, as well as our offensive line."
Jonesboro (2-3) looks to rebound against Whitewater (0-5) next Friday. The Cardinals and Wildcats are both seeking their first region wins of the year.
Starr's Mill (2-3) travels to Griffin (3-3) for a crucial region matchup. The Bears and Panthers have traded wins each of the past two seasons, with Starr's Mill winning 52-49 two seasons ago, and Griffin stealing a 29-28 win last year. The contest is at 7:30 p.m. on Sept. 28 at Griffin Memorial Stadium.