'Real season' begins with region play
Evaluating the Panthers' 1-3 start
It may be hard to believe, but a 1-3 record isn't anything new to the back-to-back region champion Starr's Mill Panthers. Two years ago, they lost three of their first four games to Newnan, Northgate, and Sandy Creek, yet still managed to finish the year as region champions. Following three straight losses, the Panthers now find themselves in familiar territory as region play begins.
However, this year's team isn't the same as the 2016 team, and their 1-3 start requires some evaluation. While these first four games ultimately don't matter, Starr's Mill has their strengths and weaknesses that need to be addressed if they want to win a third consecutive region championship.
The Good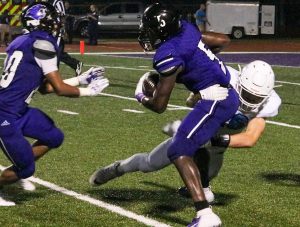 Starr's Mill has struggled this year, as they have lost their last two games by a combined 67 points. As uncharacteristic as that is for the Mill, it is expected that they have one bright spot in the backfield: junior Kalen Sims. Sims has already racked up 600 yards and six touchdowns on just 63 carries. Averaging, 9.5 yards per carry, Sims has single-handedly carried the Panther offense this year.
"[Sims] is very skilled," head coach Chad Phillips said. "He's very agile and very quick. He can make you miss and then he'll make you pay for it."
Sims is on pace for a 1,500-yard, 15-touchdown season, and the Panthers will need every bit of that to repeat as region champions. After replacing 11 starters on offense, Sims returned to this team as one of the few offensive players with any experience, and now he is the only consistent part of this year's team. Junior quarterback Hunter Lawson has thrown two touchdown passes this year, and if the Mill can get the passing game going, it will only result in more opportunities for Sims to punish defenses.
"When you pass the ball, three things can happen and two of them are bad," offensive coordinator Burt Waller said. "So we like to run it."
This offense has the potential to be great once the younger players gain more varsity experience. But as of now, expect the Panthers to rely heavily on number one.
The Bad
The "bad" for this Starr's Mill team is a mix of injuries and inexperience. Last year's team graduated 26 seniors, including the 11 mentioned offensive players. While the offense is slowly piecing things together, the defense is desperately searching for answers. Senior Sam White has missed most of the season due to injury, and joining him is Karsen Kalen, who was injured in the first game of the year. Both are expected to return against Jonesboro.
The only returning starter in the secondary is senior Sean King, as he is accompanied by first year-starters seniors Grayson Faircloth and Jalen Lazenby, and sophomore Wes Haney. Senior linebacker Michael Burnett returned to lead the Panthers' front seven, but he has been nursing a fractured ankle. With an abundance of new starters on both sides of the ball, injuries have become the Mill's biggest enemy.
"We get [White and Kalen] back this week and that will make a huge difference," Phillips said.
The Ugly
To put it simply, the Panther defense has been flat out bad. They have allowed 40.8 points per game this year, while giving up 436.5 yards per game. "It's tackling," Phillips said. "We just haven't tackled in space."
Sandy Creek just unloaded 555 yards on the Starr's Mill defense in their 55-point showing, in which the Panthers had no answers for the Patriots' offense. Starr's Mill seems unable to tackle opposing running backs, yet they also have failed to effectively defend the pass. They allow 169 yards through the air and 267.5 yards on the ground per game.
"When you don't return a lot of experienced players, you can look good at practice but the game turns out a little different," defensive coordinator Jeff Schmidlkofer said. "The guys are playing hard, the pieces just haven't fallen into place yet."
Starr's Mill has played four very athletic teams with skilled players. Chapel Hill has a talented offense that put up 49 points on the Panthers, and Northgate is traditionally a great football school. While these may be worthy opponents, it is unusual to see Starr's Mill lose by over 30 points in consecutive weeks. The only bright spot on the team is on offense, yet the Panther defense can't seem to get off of the field.
"Nobody is giving up," Schmidlkofer said. "The guys are still working hard."
Silver Lining
Their 1-3 record doesn't accurately display the talent on this Starr's Mill roster. Sims will continue to put up great numbers, and once everyone else gets more comfortable this offense will be force to be reckoned with. Similar to the offense, once the defense can recover from their injuries and settle into the season, they'll step up and make plays. Just like the 2016 team, this year's squad has the opportunity to bounce back and take the region crown.
The road to another region championship begins at 7:30 p.m. on Sept. 21 with a home game against the Jonesboro Cardinals. Following the region opener, the Panthers face a tough three week stretch with games against Griffin, Whitewater, and McIntosh before wrapping up the regular season with games at home against Riverdale and on the road at Fayette County.