Patriots crush Panthers, Mill's losing streak extends to three
Following a close loss to Northgate and a blowout loss to Chapel Hill, the Starr's Mill football team matched up with Sandy Creek. While they managed to pull off an upset in last season's meeting, the Panthers continued to struggle and fell to the Patriots 55-21.
"
We played with a lack of confidence, and as a result we played with a lack of passion."
— head coach Chad Phillips
"We played with a lack of confidence, and as a result we played with a lack of passion," head coach Chad Phillips said. "When you play an athletic team like Sandy Creek you have to believe you can get them on the ground."
Offensively, junior running back Kalen Sims continued his stellar season with 93 yards and a touchdown on just eight carries. Junior quarterback Hunter Lawson threw for 58 yards and an interception while completing three of his six pass attempts. The Panthers started the game well, but turnovers shifted the momentum and allowed the Patriots to run away with the victory.
Sandy Creek ran a balance offense, rushing for 335 yards and passing for 220. Junior running back Rashad Amos only received 10 carries, but he picked up 171 yards and three touchdowns. Junior quarterback Matthew Williams was 12 of 15 for 133 yards and threw for two touchdowns. His backup, senior Jamal Lewis, entered the game and threw for 73 yards and another two touchdowns. The Patriots dominated the Panthers on both sides of the ball, scoring 55 points and holding the Mill to only 215 yards.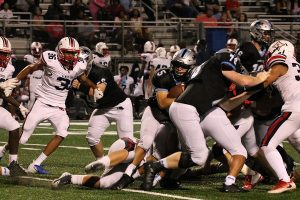 "We lost momentum, and we're so young, we lost confidence," Phillips said. "We felt like we couldn't stop them."
Starr's Mill opened the game with a quick, three-play scoring drive. Sims gained six yards on the first play, then Lawson connected with senior Sean King for 36 yards. Sophomore Cole Bishop then sprinted 10 yards and found the endzone. Senior kicker Michael Lantz converted the extra point attempt to put the Mill up 7-0.
The Patriots responded with a 10-play, 80-yard drive to the endzone. Mixing in both running and passing plays, Sandy Creek slowly moved down the field. The drive was capped off by a 20-yard touchdown pass from Williams to junior Dealo Parson, tying the game at 7-7. Once the Panther offense returned to the field, they gave the ball back to Sims, who broke off a 64-yard touchdown run. With 6:45 still left in the first quarter, the score was already 14-7 in the Mill's favor.  
"We started the game off strong," Sims said. "But then we messed up and it shifted the momentum of the game."
Sandy Creek continued to use short pass plays to chip away at the Panther defense. A 21-yard run from Amos put the Patriots in scoring position, and one play later he punched the ball in the endzone from a yard out.
The next Starr's Mill drive wasn't as successful, as a pass from Lawson was tipped and intercepted by the Patriots. Three plays later, Williams scrambled for a touchdown, giving Sandy Creek a 21-14 lead. Trying to gain momentum, the Panthers returned to the run game, but Lawson fumbled and gave possession back to the Patriots. Shortly after, Lewis threw a 29-yard touchdown pass to senior Jaquille Lee. With 10:58 left in the second quarter, Sandy Creek led 28-14.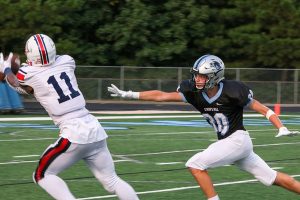 "We were missing our tackles," senior linebacker Michael Burnett said. "We're gonna regroup, and we're gonna study film and try to get back to 100 percent."
Starr's Mill continued to struggle on offense, as their next drive only resulted in a three-and-out. Once the Patriots were back on offense, they quickly put seven more points on the board. After just three plays, they traveled 78-yards to the endzone, thanks to a 73-yard touchdown run from Amos.
The first half was finished off by two more punts from the Mill and two more scores from Sandy Creek. Lewis threw another touchdown to senior receiver Rodney Howard, and Amos broke off another long touchdown run, this time 62 yards. The Panthers trailed 48-14 going into the second half.
"We have spurts in games where we look good," Phillips said. "We just can't get off the field on defense."
Sandy Creek chewed clock all throughout the second half. They opened the third quarter with possession and their first drive lasted 11 minutes. The 17-play, 80-yard drive was eventually finished off by Williams, who threw a 4-yard touchdown pass to sophomore Kasi Cost.
"
We're gonna regroup, and we're gonna study film and try to get back to 100 percent."
— senior linebacker Michael Burnett
Starr's Mill responded with an 8-play, 80-yard drive that lasted over five minutes. Senior Jalen Lazenby found the endzone from 12 yards out for his first touchdown of the year. The score brought the score 55-21, but with 7:35 remaining on the clock, the game was virtually over. Sandy Creek punted before Starr's Mill fumbled on their final drive, and the Patriots escaped Panther Stadium with a 34-point victory.
"We just have to work harder in practice and look ahead to next week," Sims said. "I'm still really motivated going into [region play]."
Sandy Creek will return home next week to take on Troup County. The Patriots are 3-1 so far this year, but their only loss was at home. They'll look to defend their home turf when the 4-0 Tigers visit.
For the Panthers, the schedule now shifts to region matchups, the first of which is Jonesboro. The Cardinals (2-2) are coming off of a 25-7 loss to Ware County. Jonesboro will travel to the Mill, who celebrates homecoming this week. The parade is on Thursday at 5 p.m. The football game is the following night at 7:30 p.m., with the dance on Saturday at 7 p.m.