Leonard shows principles, moves parking spot
A school's principal has a long list of important jobs and responsibilities he must complete to allow a school to function in a safe and successful fashion. Without this individual a school would completely fall apart, unable to provide the education necessary for students to succeed.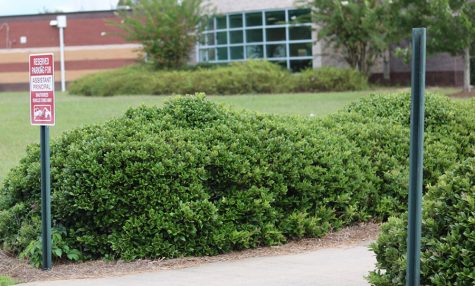 For that reason, there are certain perks given to the person who holds this title just as a way to say thanks for working so hard. However, the principal at Starr's Mill has decided to give up one of those perks in an effort to once again improve the school.  
"There may be a day when a teacher or a parent or an assistant principal needs to get into the building quicker than I do, so if they need to have that space, they can have that space," Principal Allen Leonard said.
For years the school has designated its best, closest parking spot in the teacher lot to the school's principal. However, Leonard has decided this tradition needs to end, at least for his administration, as he has taken down his parking lot sign opening the space up to any teacher or parent who wants it.
"My job is to help everybody else here do their jobs better and I'm a firm believer that little things are important," Leonard said. "A principal, just because [he is] principal, shouldn't have the best parking space in the parking lot."
While Leonard sometimes parks in the spot, he also chooses days to leave the area open to anyone else who may want or need it. He believes that just because he has a title does not mean he is entitled to special treatment.
Leave a Comment