Panther defense helps snap long-standing losing streak
The last time Starr's Mill beat Sandy Creek, Beyoncé had just turned 18, the Twin Towers still stood, and most of the players currently on the Panther roster wore diapers. However, that all changed Friday night, as Starr's Mill traveled to Sandy Creek and defeated the Patriots 21-6.
"I'm just so happy for these players," head coach Chad Phillips said. "They're learning the value of hard work."
"
[Lantz] is a great kid, and it's awesome to know we can score from almost anywhere on the field.
— Senior quarterback Joey DeLuca
Senior running back Cole Gilley spearheaded the Panthers rushing attack, picking up 104 yards on 17 carries with one touchdown. Senior quarterback Joey DeLuca threw for 50 yards and a touchdown as well as rushing for 35 yards on the ground. Junior kicker Michael Lantz, the number one kicker in the nation according to kohlskicking.com, broke the Starr's Mill school record for the longest made field goal when he drilled a 50-yard attempt right through the uprights.
For the Patriots, sophomore quarterback Matthew Williams completed nine of his 15 pass attempts for 155 yards, but threw two interceptions. Senior running back Jordan Clark ran for 125 yards on 21 attempts. Despite amassing 300 yards, Sandy Creek could only manage to put six points on the board.
"It was a complete team effort," Phillips said. "The defense played their best game of the season."
Starr's Mill received the opening kickoff and their offense took the field. Their first drive consisted of multiple run plays from four different running backs. The Panthers marched 42 yards to the Patriot 40-yard line. They were then held to a fourth down situation. Many teams would be forced to punt, but not Starr's Mill. The crowd quieted as they saw Lantz walk on the field to attempt a 50-yard field goal, who kicked the ball through the uprights to give the Mill a 3-0 lead.
The following Sandy Creek drive consisted of eight plays, but the Patriots failed to put up any points. However, two plays after they punted, DeLuca fumbled and Sandy Creek recovered on the Starr's Mill 43-yard line. Despite gaining momentum from their turnover, the Patriots were forced to punt again.
"It's those little things, we're shooting ourselves in the foot," Gilley said. "But the defense did a great job tonight and kept them out of the endzone."
The Panthers continued their rushing attack, repeatedly picking up first downs. After eight short runs, DeLuca dropped back to pass and hit senior wide receiver Brandon Rew for a 28-yard touchdown. The extra point was blocked, but Starr's Mill still led 9-0 with 10 minutes left until halftime.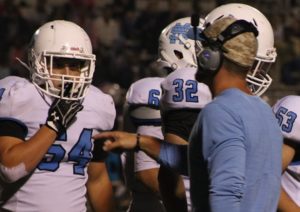 The next drive for the Patriots looked as if they could finally put points on the board, but after 11 plays, they turned the ball over on downs. Senior running back Nick Brown then fumbled on the following play, giving possession back to Sandy Creek. Once again the Patriots began to drive before Williams threw an interception to junior Panther safety Sean King.
The Patriots defense forced a three-and-out, giving their offense one last chance to score before halftime. An 11-play, 35-yard drive ended with a field goal for Sandy Creek, who entered the break down 9-3.
"Everyone on defense had a great game," DeLuca said. "They played great, especially those two turnovers."
To start the second half, the Patriots saw another long drive end in nothing. A 9-play drive went 38 yards, but they were forced to punt. On the ensuing Panther possession, the Sandy Creek defense seemingly held the Panthers to another three-and-out until the Patriot returner fumbled the punt and Starr's Mill recovered.
The Panthers didn't waste their second chance, and they drove into field goal range once again. They faced a fourth down at the Sandy Creek 30-yard line, and Lantz added three more points to Starr's Mill's lead. The Panthers led 12-3 with 3:48 left in the third quarter.
"It's a great feeling [to know] once you get past the 40-yard line you have a good chance of scoring," DeLuca said. "[Lantz] is a great kid, and it's awesome to know we can score from almost anywhere on the field."
The Patriots offense continued their trend of long, time-consuming drives. They used 13-plays to drive 66 yards, but they didn't come up empty this time. While failing to reach the end zone, they cut into their deficit with another field goal. Only 11 minutes remained on the clock, and the Patriots still trailed 12-6.
The Panthers were unable to extend their lead, but Lantz helped the defense out with a great punt. Pinned at their own 5-yard line, Sandy Creek had to be careful. However, Starr's Mill wouldn't pass on the opportunity, as their defense forced a safety. Following the free kick, the Panthers looked to extend their lead even more.
On the sixth play of their next drive, Gilley broke off a 23-yard score. The back-to-back scores put Starr's Mill up 21-6, and with only two minutes remaining, the outcome was inevitable. The Panthers beat Sandy Creek for the first time in 18 years. The Patriots outgained Starr's Mill, but timely turnovers helped the Panther defense nullify Sandy Creek's explosive offense.
"Our goal was to be the best team in Fayette County this week," DeLuca said. "Everyone did their job."
The Patriots are now 3-1, while Starr's Mill enters region play boasting a perfect 4-0 record. Sandy creek has a bye week before playing Troup County on Sept. 29. As for Starr's Mill, their first region game is Sept. 22 at Morrow.
The Mustangs are off to a 3-1 start, beating Hampton, Forest Park, and Mt. Zion. Morrow is averaging over 20 points per game, but this Panther team is coming off of the best defensive game in recent Starr's Mill history. The matchup kicks off at 7:30 p.m. in Tara Stadium.