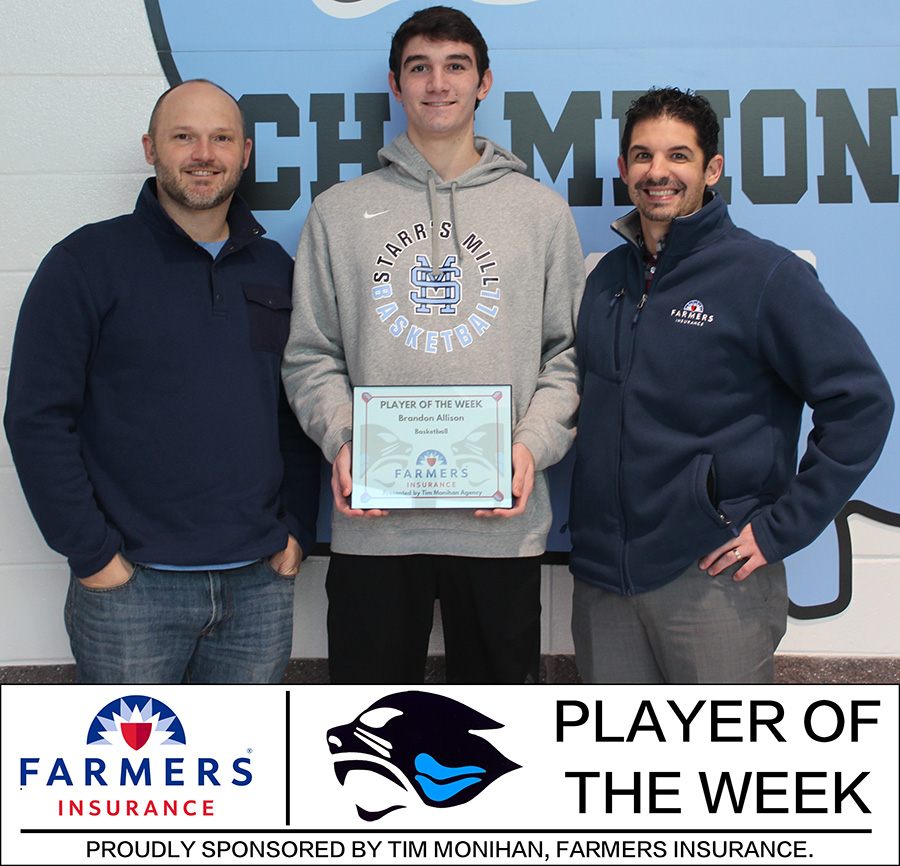 Tim Monihan / Farmers Insurance
Brandon Allison
Tim Monihan and Farmers Insurance recognize junior basketball player Brandon Allison as the second Player of the Week of the 2019-2020 winter sports season.
"[I am] a rebounder, a big player, a scorer sometimes, kind of help the offense run smoothly, make good passes, [and] smart plays," Allison said. "[I've been] working together good with other bigs."

Starr's Mill boys' basketball has begun their season with a 3-8 record, including an 0-2 region record. They suffered a five-game losing streak, including region losses to McIntosh and Whitewater. According to head coach Josh Reeves, Allison contributed 21 and 10 points against McIntosh and Whitewater, respectively. 
The Panthers snapped the losing streak on Dec. 14 with a 55-51 victory over Stockbridge. The boys will head Atlanta, Georgia, to play St. Pius X in the War Eagle Classic this Saturday at 6:45 p.m. They will also head back to Atlanta to play Hapeville Charter in the Tournament of Champions at 10 a.m. on Dec. 27.
"[Allison]'s a pretty creative scorer. Really what he's been doing is making big shots for us," Reeves said. "I think he's one year out of his ACL surgery, so usually that's when you kind of start blossoming a little bit more after that injury."
Starr's Mill hosts the Fayette County Tigers in their next region matchup on Jan. 7. Tipoff is set for 7:30 p.m.