Win some, lose some
Varsity basketball splits first region games of the season
Back from Thanksgiving break, both Starr's Mill basketball teams jumped right into region play with games versus McIntosh. The girls' team won easily, 58-16, while the boys' lost a close game 57-54.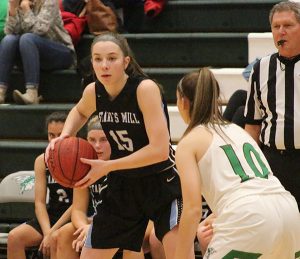 "They played as a team and they did what they needed to do," head girls' basketball coach Emily Sweeney said.
While on break, the girls team played only one game, a 58-45 loss to Langston Hughes High School. The boys, however, played four games, only winning one.
Many coaches say that the real season begins with the region opponents.
"Beating McIntosh always boosts their confidence so just that fact that it's a confidence booster is going to help them carry on to, hopefully, beat Whitewater on Thursday," Sweeney said.
On the girls' team, their highest scorers were senior Ashtyn Lally with 11 points, sophomore Jacklyn Hester with 11 points, and senior Alice Ann Hudson with 10 points. They played with a good defense and stayed on top of McIntosh throughout the entire game.
"We have been practicing really hard and working on some new stuff and we put that in tonight,"  Hudson said. 
The boys team's highest scorers were senior Zac Cernigilia with 12 points, senior Reese Clevenger with nine points, and junior Gabe Sands with six points.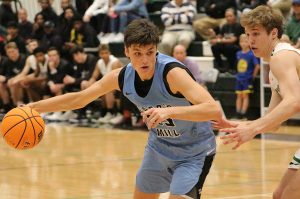 "We did some stuff that should have helped us win a close game, but instead we lost it," boys' basketball head coach Josh Reeves said. 
The team played hard against McIntosh. They were close in score all the way through to the end. The competitive spirit between the two teams was fast paced and aggressive.
"We did some silly things, some uncharacteristic things, but it's kind of what we're doing early in the season," Reeves said. "We gotta figure out how to win some of these basketball games instead of playing the real close ones."
Both teams followed up with their next region game against Whitewater Thursday night. The girls won their second region game 61-22, and the boys lost their second region game 53-37.
Starr's Mill basketball was scheduled to travel to Jonesboro on Dec. 10 for a varsity double-header, but that contest has been rescheduled for Feb. 1. After holiday tournaments, Panther basketball returns to the Panther Pit on Jan. 7 to resume region play against the Fayette County Tigers.
Leave a Comment