Logan Inagawa
Tim Monihan and Farmers Insurance recognize sophomore Logan Inagawa as the ninth Player of the Week for the fall sports season.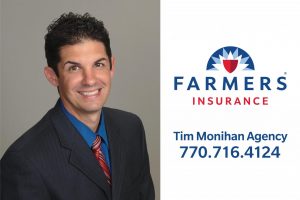 "He's a very passionate player, a very talented player," football head coach Chad Phillips said. "He studies, watches film, understands what our game plan is, [and is a] very competitive kid." 
  Last week, Inagawa completed 9 of 18 passes for 112 yards, along with two touchdown passes.  One touchdown pass was for 12 yards to junior Bo Walker in the third quarter of the game. The second was a 28-yard pass to junior Dorsey Benefield in the fourth quarter of the game. Troup County defeated Starr's Mill 44-17.
"It's been good so far," Inagawa said. "We just had one bad game, but overall we've been good."
On the season, Inagawa has completed 58 percent of his passes, connecting on 32 of 55 attempts for 466 yards. He also has a total of six touchdowns and two interceptions so far this season. 
"He wants to be really successful, and he's putting the time in," Phillips said. "He's got the will to do the extra things and go the extra mile."
Following last week's loss, the Panthers are 4-1 overall, 1-1 in region play. The team travels to Trinity this Friday for a 7:30 p.m. kickoff.
We welcome your comments, but only those comments that are appropriate for a high school publication will be posted. Comments that are derogatory or use inappropriate or vulgar language will not be posted.