Tim Monihan and Farmers Insurance recognize senior defensive end Carson Schmidlkofer as the second Player of the Week of the 2023 fall sports season.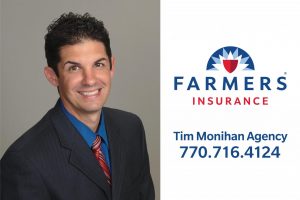 "I think I did pretty good against [East Coweta], but I really couldn't do anything without my teammates though," Schmidlkofer said. "It's not just a player game, it's a team game. We all play for each other and play for one purpose."
Schmidlkofer is described as a hardworking player with lots of determination. Head coach Chad Phillips recognized Schmidlkofer for giving his all to the game. Though Starr's Mill lost to East Coweta 28-21, the game really came down to two plays – an 86-yard touchdown pass and a kickoff returned for a touchdown.
"Carson played extremely well. He had two tackles for loss, two pressures," Phillips said. "Every time the ball snapped, he goes as hard as he can go."
The Panthers held East Coweta to 259 yards in last Saturday's game. They only gave up 18 yards rushing while also intercepting two passes.
Starr's Mill hosts Northgate tonight at 8 p.m. in Panther Stadium.