Tim Monihan and Farmers Insurance recognize freshman Olivia Irwin as the fourth Player of the Week for the 2023 fall sports season.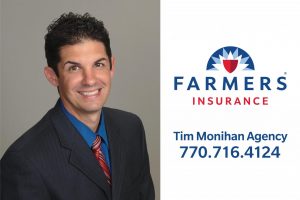 "It's a big transition from JV to varsity level," head coach Peyton Dean said. "She has done it with grace, and she doesn't carry herself like a freshman."
Dean emphasized how Irwin shows good leadership skills. With her playing catcher, she is like the quarterback of the field, so she is constantly talking and giving directions to the other players on the field. 
"I've definitely grown more confident," Irwin said. "My overall ability and also hitting on offense [have grown]."
Last week, Starr's Mill defeated Landmark 14-2 and Riverdale 17-0. Panther softball is currently 3-5 overall, 2-4 in the region.
The Panthers travel to play Troup County tomorrow at 7 p.m. The team's next home game is against Trinity on September 14. Panther softball will recognize breast cancer awareness at that game.