Tim Monihan and Farmers Insurance recognize senior Taylor Ratinaud as the eighth Player of the Week for the fall sports season.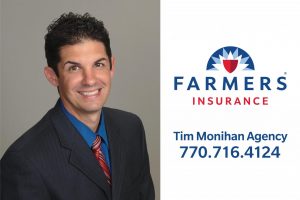 In last week's 21-7 win over LaGrange High School, the Starr's Mill defense intercepted three passes. Ratinaud had all three of those interceptions, including returning one 80 yards for a touchdown.
"Taylor had a big play, had three interceptions in the game, had one return for a touchdown," head coach Chad Phillips said. "Taylor took last year off and he came back this year and he's really coming on, been playing well."
The Starr's Mill  defense held the Grangers to 32 yards rushing. The Panther offense controlled possession with the run game, rushing the ball 44 times. Senior Dorsey Benefield led the offense with 106 yards rushing and one touchdown.
"There's a lot of leaders in the team," Ratinaud said. "I think we are starting to figure out who those are and what they actually bring to the table and actually finding out how big of an impact they really make."
The Panthers travel to Troup County tonight for another region game. The Tigers are currently 4-0 overall, 1-0 in region play. They recently defeated Whitewater 56-7. Kickoff is set for 7:30 p.m. in Callaway Stadium.