Tim Monihan and Farmers Insurance recognize junior Ben Anderson as the ninth Player of the Week for the 2023 fall sports season.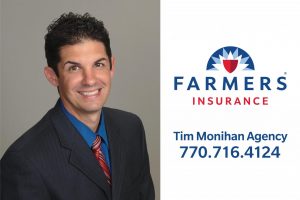 In last week's 20-18 win over Troup County, Starr's Mill ran the ball 51 times for 175 yards. The offensive line, including Anderson, was instrumental in helping the Panthers control the clock for 33 minutes.
"He really did his job. He has got a job he has got to do every single play," head coach Chad Phillips said. "He did it effectively, [and] he did it aggressively. As a result, the offense played well because of him and his teammates."
Senior Dorsey Benefield led the offense with 24 attempts for 76 yards and one touchdown. Starr's Mill has relied heavily on the run game to begin region play. The team currently averages 172.2 rushing yards per game. Benefield is averaging 80 yards per game courtesy of an experienced o-line.
"I think [my experience] helped me a lot and helped me learn all the plays of offense throughout the years," Anderson said. "It has helped me become a better player overall."
This is Anderson's third year on the Starr's Mill football team. He played right guard his sophomore year and tackle his freshman year.
Now 2-0 in region play, the Panthers host Trinity tonight at 7:30 p.m. Homecoming court will be announced during halftime.