Tim Monihan and Farmers Insurance recognize senior Andersen Cardoza as the 11th Player of the Week for the fall sports season.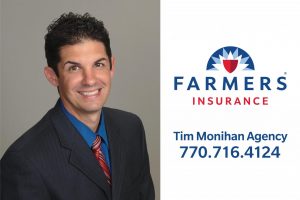 "He is influential, our young players look up to him," varsity football head coach Chad Phillips said. "They watch him work, they watch the time he puts in, they watch the commitment he makes to the program."
In last week's game against Fayette County, Cardoza rushed 7 times for 65 yards and scored two touchdowns. Overall, Cardoza has a total of 165 rushing yards. He has a season long run of 67 yards. 
"I went out and I had a good game," Cardoza said. "I think that I just showed I can be a leader on the field last week during practice, just getting everybody up and ready for the game." 
The Panthers are currently 4-3 overall, and 3-1 region. Starr's Mill is currently second in the region behind Trinity.
Starr's Mill hosts the Riverdale Raiders on October 20. Kickoff will be at 7:30 p.m.