Tim Monihan and Farmers Insurance recognize senior defensive end Carson Schmidlkofer as the 14th Player of the Week for the 2023 fall sports season.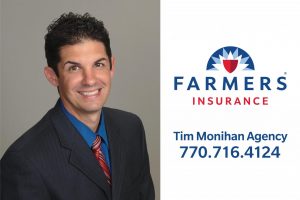 "(Carson) plays very hard," varsity football head coach Chad Phillips said. "He's a physically talented player, and it means a lot to him. I think that's a major thing."
Last week, Starr's Mill defeated North Clayton 41-6 for their third consecutive region win. The Panther defense held the Eagles to 43 total rushing yards. 
Carson is part of a defensive line that is only giving up 78.3 rushing yards per game. In addition, Starr's Mill opponents are averaging a mere 11.9 points per game. At 5-1, the Panthers are currently first in the region with their only loss coming against Trinity.
"I think I can't really do it without my teammates," Schmidlkofer said. "We all work together."
Phillips explained that the football team has been working toward winning the region since the beginning of the season. A win over Whitewater (5-4 overall, 3-3 region) this Friday will give the Panthers their 10th region championship in school history.
Starr's Mill travels to Whitewater tonight for a 7:30 p.m. kickoff.