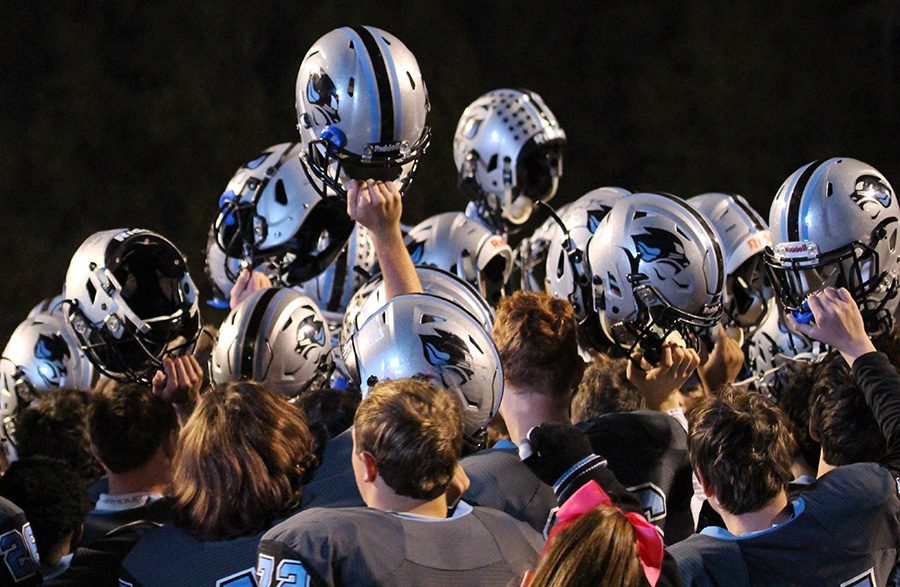 Gameday Takeaways, Week 10
Three notes after historic victory
November 13, 2019
Last week, the Panthers returned home to Panther stadium to take on the 2-7 Fayette County High School Tigers. A dominant offense mixed in with a lock-down defense allowed the Panthers to win 49-7. Here are three notes from the contest.
History has been made
This win gives the Panthers their historic fourth-straight region championship. It also ties them with Sandy Creek for the most overall region championships in county history. 
Starr's Mill has worked hard for this, and despite an early region loss to Jonesboro, the team battled back, winning two close battles against Griffin and Riverdale to retake control of the region and ultimately raised the trophy high in the end.
Second 1,000-yard season for Sims
Senior Kalen Sims has had a solid last two seasons with the team. His last regular season game saw him rush for 100 yards and a touchdown. 
However, his performance also gave him his second consecutive season of 1,000 or more rushing yards. Despite his slow start through the first four games, Sims rallied and proved that he is one of the best backs in the region, using an amazing offensive line to his advantage.
"I'm grateful for another 1,000 plus yard season," Sims said. "I give all the credit to my offensive line and the coaching staff, because if it wasn't for them, I would have none of those 1,000 yards."
Team proved how deep they can be
This win over the Tigers saw something that no one has seen this season for the Panther offense — seven touchdowns scored by seven different players.
Stats like this prove that the team has a valuable future with multiple young players that have proven to be bright spots on the offense, including sophomore Brandon Mathis. 
Mathis ran for 252 yards on 21 carries and two touchdowns as the third back in a stacked rotation. Look for him to take over as the lead back next year, and look for a breakout.
What to watch for this week
The state playoffs start this Friday, and the Panthers drew the Harris County High School Tigers, the No. 4 seed from Region 1-AAAAA. 
Of course, we all know what happened last year in the first round. However, the Panthers learned from that loss that they should never take an opponent for granted, so look for this team to fire on all cylinders and move on to the second round.
Starr's Mill takes the field this Friday in Panther Stadium against Harris County. Kickoff is set for 7:30 p.m.