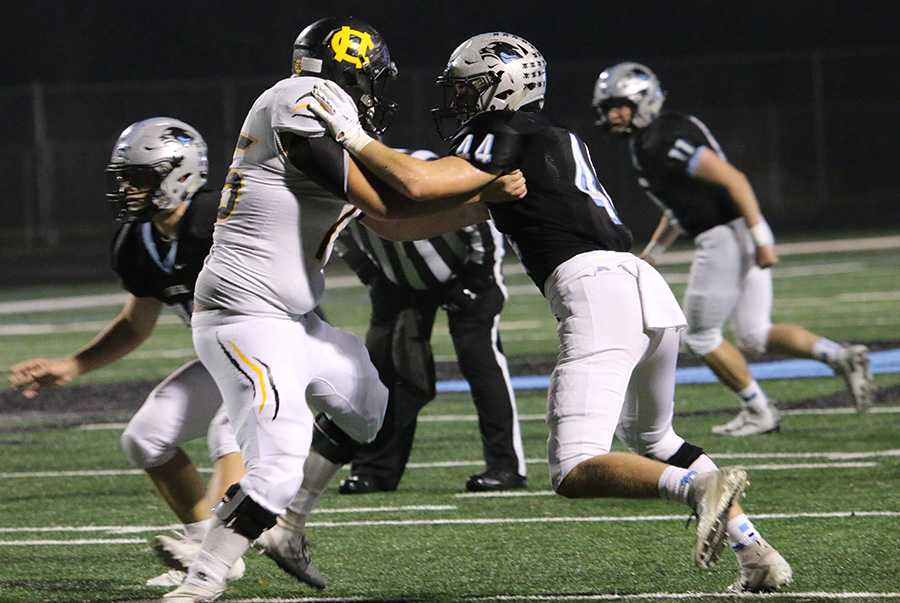 Gameday Takeaways, Week 11
Three notes after dominant round one victory
November 19, 2019
Last week, the Panther football team kicked off the state playoffs against Harris County, the No. 4 seed from Region 1-AAAAA. The Panthers used last year's first round upset as inspiration in a 28-7 win over the Tigers. Here are three notes from the contest.
Sims with another strong performance
This time last season, senior Kalen Sims left the game early after a foot injury and was forced to watch his Panthers lose to New Hampstead. Last week, he got his revenge, rushing for 160 yards and two touchdowns.
"I came into this game still feeling the pain of seeing my team out there and me getting injured," Sims said. "This year I made sure to come out and play my game and make sure I stay injury free, and we came out with a win."
Besides Sims, senior Ben Bodne had another strong game as he rushed for 81 yards, while senior Hunter Lawson ran for 10 yards and a touchdown. The Starr's Mill running back rotation is deep..
Lawson breaking out the long ball
Speaking of Lawson, the long ball seemed to be his style in the victory as he threw for 38 yards on just two throws for a touchdown. We haven't seen Lawson pull off the passing game since the Chapel Hill game, and it was a nice change of pace for the Panther offense.
"I've grown in confidence a lot this season," Lawson said. "I'm loving throwing the long ball now, and I love the receivers that I get to throw it to."
On the season, Lawson has 721 total yards, 265 of them coming from the ground and 456 of them coming from the air. 
Defense had one of the best games of season
The Panther defense had one of its best games in the win over the Tigers, holding them to only 163 total yards. Considering this is only three more yards than what Sims had by himself, I'd say the defense more than did its job.
Through other great outings against Whitewater and McIntosh, the Panther defense has clicked at the right time.
What to watch for this week
Starr's Mill has another tough outing for round two as they'll face off against the Kell High School Longhorns, the No. 3 seed from Region 7-AAAAA. The last time these two teams met was in round two of the playoffs in 2016, and the odds did not end in the Panthers' favor.
However, the Panthers have shocked a lot of people this year, which is their specialty. Expect a hard fought game from both teams and a close result in the end.
The Panthers stay in Panther Stadium to take on Kell this Friday. Kickoff is set for 7:30 p.m.