Record-setting season ends early
After their 31-3 loss to Kell, the Panther football season came to a close. The Panthers filled the stat sheet, but couldn't put any points on the board, as the Longhorns only out-gained the Panthers 384-314 in total yards. Special teams played a huge role in the Panthers' first round victory over Veterans, but is the same thing that defeated them against Kell. Two blocked punts gave the Longhorns two touchdowns, and the Panthers struggled throughout the entire game.
Even though the Panthers' season came to an abrupt end, it was still a successful season in many ways.
"We are pleased with our season," head coach Chad Phillips said. "We set a region championship as a goal and, working together, we achieved our goal."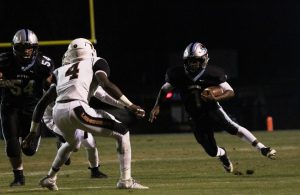 Junior running backs Cole Gilley and Nick Brown both had great years in the unselfish Panther backfield. Gilley finished with 1,655 yards and 24 touchdowns, while Brown totaled 998 yards and nine scores. While not breaking the individual rushing record, Gilley broke the single season all-purpose yards record with 1,667 yards receiving and rushing.  
Gilley was the leading receiver with 157 yards, but junior Mitch Prowant was versatile in the ground and passing game. He totaled 113 receiving yards and three touchdowns while rushing for 429 yards and seven more scores.
"This team was very unselfish and that helped us break several records," Phillips said. "The focus was on 'us' not 'me,' and that is key to maximizing potential."
Along with individual stats, the Panthers had a fantastic year as a team. This season's team broke the record for regular season rushing yards as a team with 3,327, as well as breaking the first down record with 218. Brown was two yards short of the Panthers having the first ever team with two 1,000-yard rushers.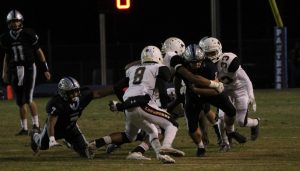 The Panthers delivered another region championship after going 5-1 in region matchups. Although they had a 6-4 record, the Panthers learned from their losses against very tough teams, and used that to make another playoff appearance.
"Our players know the value of hard work," Phillips said. "[They] understand you can accomplish anything if you are willing to make a major investment and see it through."
The Panthers will be returning multiple key players from a year ago as Gilley, Brown, and Prowant will return for another year, while juniors Joey DeLuca, Brandon Rew, and Ryan Cockes will also play one more season in a Starr's Mill uniform. Freshman running back Khalen Sims, who was third in rushing for the Panthers, will be a year more experienced, and sophomore defensive back Carson Walter will return to operate the Panther secondary.
The biggest loss is the graduation of four offensive lineman in Andrew Loftis, Ryan Fogg, Matthew Hill, and Brandon Fry. Even with a big junior class returning, the Panthers are losing a big part of their offense.
"We have some big holes up front with the loss of Hill, Fogg, Loftis and Fry," Phillips said. "But, we return all of our skill guys, which is very encouraging."
The Panthers exceeded expectations this season, and have the tools returning to challenge for another region championship. Most of the players who contributed to this year's success will return next year. However, the impact of losing most of the offensive line won't be made apparent until next season kicks off. As exciting as this year's Starr's Mill football team was, the 2017 team should only be more thrilling and fun to watch.