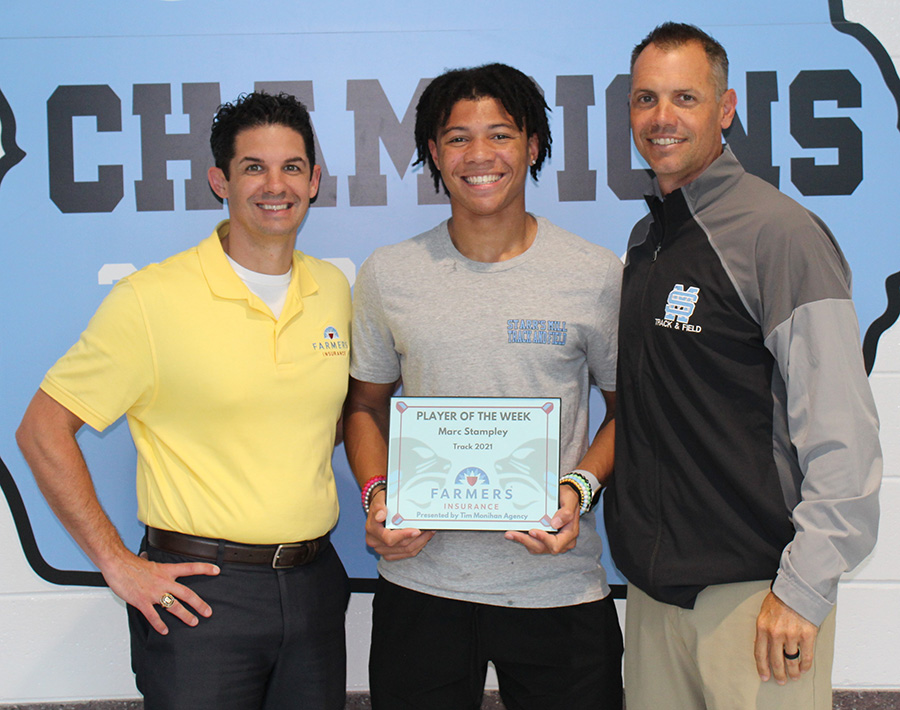 Marc Stampley
Tim Monihan and Farmers Insurance recognize junior track and field athlete Marc Stampley as the 15th Player of the Week for the 2021 spring sports season. 
At the state championships, Stampley was the highest scoring individual in 5A with 17 points based on his finishes in three events. He placed fourth in the long jump clearing 22 feet, 0.75 inches, third in the triple jump with a new PR of 44 feet, 6.50 inches, and second in the 300 hurdles breaking the school record at 38.07 seconds.

"[He] had a phenomenal performance, probably one of the best performances in Starr's Mill track and field history," head coach Chad Walker said. "We've had some other kids score really high, but not the way that he did it."
This is the second time this year Stampley has earned Player of the Week. He plays free safety for the football team.
"[I am] just working hard, doing every workout to my full potential and just following the script the coaches give us," Stampley said.
In the field events at state, senior Joseph Rampey placed eighth in shot put throwing 49 feet, 2.5 inches, sophomore Josh Phifer placed eighth in discus at 147-8, senior Joey Sulkowski finished seventh in pole vault clearing 13 feet, 6 inches. 
Several boys had podium finishes for track. Junior Garrett Jones placed fourth in the 1600 with a time of 4 minutes, 23.20 seconds. Senior Colton Olvey placed seventh in the same event. Senior Devin Barnett placed fifth in the 110 hurdles in 15.03 seconds.Senior Kolby Smith, Jones, sophomore Ethan Aguilera-Morton, and Olvey placed second in the 4×800 breaking the school record at 8:03.37. 
"[Stampley] had an incredible meet and it was well deserved, it was earned, and he also had a great season, not just a great meet but he had a great season," Walker said. "[He] worked really hard to get to where he was."
Starr's Mill boys finished second overall in 5A with 47.5 points. Blessed Trinity took home the championship with 52 points.