Spring breathes new life and new fashion
The warm weather has begun and students are seeking new fashion trends for the spring time temperatures. Many new styles are available.
One of the main fashions this spring are off-the-shoulder tops. These have made a huge entrance into the fashion world. These tops are great paired with different color jeans or shorts. "We carry a lot of off the shoulder tops, almost everything is off the shoulder," Lizard Thicket assistant manager Carrie Bittinger said. Many of these tops come in floral patterns. 
Floral tops, pants, shorts, and headbands are other major pieces seen among students. Almost any clothing boutique is like walking through a sea of floral prints and pastel colors.
The popular pastel colors this spring are blush colors like light reds, pinks, oranges, and yellows. Also, light blues and denim colors are a common sight. "If you look around you'll see that the whole place is filled with blush, stripes, and denim colors," Bittinger said.
Another blooming trend this spring are linen dresses. These dresses are made of a softer material and are comfy to throw on for a warm spring day. Pairing these dresses with platform wedges makes a refreshing look fit for this replenishing season.
Another way to take a fashionable walk through spring greenery is with wrap sandals, which  tie up around the ankle or at a higher location on the leg, or platform wedges. "I will usually wear wrap sandals with jeans or shorts and a cute floral top," junior Rachel Wilson said.
Both of these shoe styles seem as though they are hitting the racks at almost every boutique. Wrap sandals and wedges also make a great pairing with shorts and "boyfriend jeans."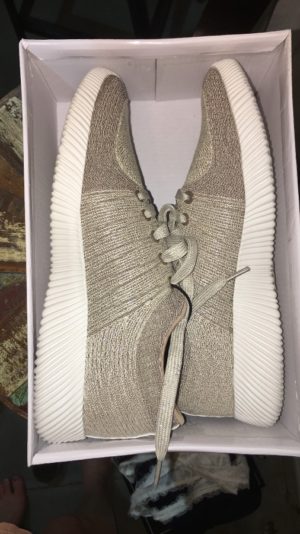 Though their name may seem off-color, "boyfriend jeans" usually have the "worn" or "destroyed" look and are loose fitting. These jeans look great paired with an off-the-shoulder top or a ripped graphic tee. Graphic tees typically have rips at the top of the t-shirt for a more relaxed, loose-fitting look.
"I think off-the-shoulder tops and destroyed shorts or jeans are really popular and cute pairing for spring," junior Sophie Chaisson said.
Spring is also a time for relaxing and enjoying the beautiful temperatures. On the more chilly days, wearing athletic outfits are a popular style. Yoga leggings, athletic shorts and tanks, with fashion-forward tennis shoes are "in" for the spring.
"Soft and subtle" colored tennis shoes are also popular. These type of shoes come in an array of colors including army green, maroon, grey, and ivory. These tennis shoes look stylish with a plain top or t-shirt. "I like to wear Nike fits and a t-shirt with 'soft and subtle' colored tennis shoes," sophomore Frany Landgrebe said.
It's not too late to snag these spring time fashions. Head over to a local boutique, like Peachtree City's Lizard Thicket, to find all the new trends.