Nicole Hendricks
Growing up, Panther alumna Nicole (Chrzanowski) Hendricks knew she wanted to work in the sports industry. Surrounded by sports during her childhood, Hendricks not only played on several teams at the Mill, but also was a avid supporter of her hometown football team, the Buffalo Bills. Where exactly she fit into the industry was what she wouldn't find out until college.
"I always knew I wanted to be around sports," Hendricks said. "In that respect I don't think that [my life goals] ever changed."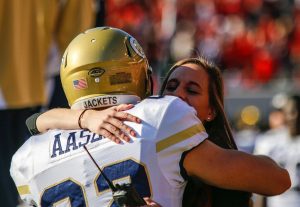 In high school, Hendricks was a very well-rounded student, balancing playing sports with classes as well as being the class treasurer and an active member in HOSA. Although Hendricks would later determine the medical field wasn't for her, HOSA taught her life skills she felt helped her no matter what career she chose.
"I think my experience at Starr's Mill created a solid foundation for me for what it meant to work hard and what it meant to put in the hours and dedication," Hendricks said.  
After graduating from Starr's Mill in 2013, Hendricks attended the University of Georgia where she flip-flopped her major several times until halfway through her college schooling when she decided on public relations with a certificate in sports media .
"My sophomore year at UGA I was put into contact with the head of the communications department for the sports association at Georgia and I learned about what he did and thought that was really cool and changed my major to that and just rolled with it," Hendricks said.
After determining she wanted to go into sports PR, Hendricks took full opportunity of the programs offered by UGA, including a sports media certificate. Through college, Hendricks was able to further narrow her career field by getting a taste of what it's like behind the scenes of each of UGA's athletic teams.
"I worked with the athletic department at Georgia while I was a student there," Hendricks said. "I got the opportunity to work with a bunch of different sports and I zeroed in in wanting to work in football just because of all the media attention around it, and I enjoy working with the media. Throughout my experience there I realized how much went into the production of football and that made me really want to work in it."
Hendricks graduated from UGA and spent the summer with family back home in Buffalo, NY. After the break, Hendricks planned to start graduate school, but searched for summer internship opportunities in Buffalo. She ended up landing an internship with her family's favorite NFL team, the Buffalo Bills. The internship led to her taking a job opening in the PR department, which Hendricks gratefully accepted and dropped out of graduate school for.
"
Now that I'm here I'm so thankful, really at a personal level that my life has led me back to Buffalo…"
"I don't think I ever really envisioned working for them [the Bills]. I just always thought it was so cool and I really loved football," Hendricks said. "Now that I'm here I'm so thankful, really at a personal level that my life has led me back to Buffalo because I still have a lot of family up here that I didn't see as much growing up and so this has given me the opportunity to spend more time with them but also work for a team that I'm really passionate about and have roots to."
Although unexpected, Hendricks spoke of how well her move to Buffalo and transition to working with the Bills has been. As the communications coordinator of the team, Hendricks is posed with a long list of duties for the organization such as making public announcements for the team and prepping players and coaches prior to them being questioned by the media. Hendricks also handles giving out game credentials, taking game notes, communicating injuries and keeping track of stats as well as writing player bios.
"[My life] has definitely gotten a lot crazier to say the least," Hendricks said. "I have truly learned what it means to put in the hours to something. During the season I work every single day and I've just learned what it means to really dedicate yourself to something. In this business, if you go in thinking it's a standard nine-to-five you're not going to do well. It's all been really positive though, and I'm super thankful for this experience."
The one major struggle Hendricks has encountered in working in football PR is being one of the few women in the field. Working in a male-dominated sports industry can be slightly intimidating and can limit the access she has.
"It is not easy. A lot of times I'll look around and I may be the only female in the room," Hendricks said. "My coworkers will go in the locker rooms a lot and talk to the guys in there, and I can't, so that can be a challenge sometimes."
Despite the demands of working long hours during the football season, having to make split-second decisions and being one of the only women in the industry, Hendricks describes her job as "fun" and feels blessed to have earned the opportunity to work for such a major organization.
View Comments (2)