Senior scaries
Class of 2022 celebrates last homecoming with haunted hallway and parade float
The class of 2022 officers worked diligently to create an unforgettable experience for the seniors' last homecoming week on Panther Path. The theme for the later October homecoming week this school year is Halloween.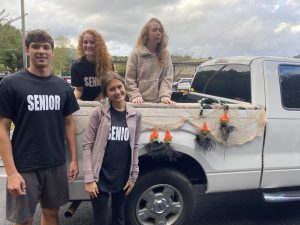 The 300 hallway was decorated with cemetery themed decor. Along the walls hung tombstones with the names of the schools in our athletic region. The famed senior red carpet ran straight down the middle of the hallway, stretching from the rotunda to the cafeteria. 
"We got some ideas [for the hallway theme] from other committees and we kind of put it all together," Class of 2022 vice president J.D. Arnold said.
Whether the parade would happen or not due to weather conditions in the area was not decided until mid-afternoon on Thursday, hours before the parade. 
The senior float was similarly themed to the hallway with ghosts, ghouls, and witches hanging from the sides of the truck. Across the front of the truck was a flag with the word "SENIORS" written across it.  Kylie Valenta, Celeste Goudy, and Elizabeth Patten decorated the float in the homecoming parade for class of 2022.
"We did it as best as we could, with little time, and how weather was going to go," Arnold said.
As the senior class enjoys its last homecoming week at Starr's Mill, the class officers as well as many student and parent volunteers put together the float and the hallway for the students to enjoy. 
Leave a Comment