October PBIS awardees help others, honor commitments
PBIS has announced Student of the Month and Staff Member of the Month recipients for the month of October.
Spanish teacher Madeline Rodriguez recognized sophomore Maggie Kluemper because she is a hard-working student who goes the extra mile to make sure her fellow classmates understand course material following an absence.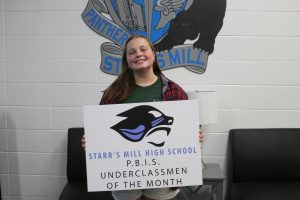 "Maggie is accountable and responsible," Rodriguez said. "She works very hard during class but also cares for others."
Other underclassmen receiving nominations included sophomores Nono Arakawa, Kaylan Cape, Helen Meitzner, Charlie Rosenberger, and Lilly Taubert. 
English teacher and newspaper adviser Justin Spencer recognized Joslyn Weber because she continues to challenge herself to produce quality stories for the Prowler. She is always open for constructive criticism and uses those tips to become better. While her fellow seniors were checking out or taking the day of the PSAT off entirely, Joslyn checked in to school to honor her commitments and film "Coach's Corner' with softball head coach Peyton Dean.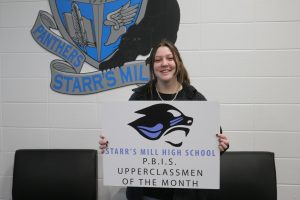 "You want someone who comes in each day and does what is expected of them,"  Spencer said. "Joslyn challenges herself each time. She is willing to try new angles and new approaches." 
Senior Elizabeth Miller also received a nomination.
Student of the Month winners receive a t-shirt and earn a place on the Wall of Stars in the 800 hallway. 
Assistant principal Brandi Meeks and economics teacher Walt Ellison recognized paraprofessional Kristie Hayward for her dedication to her students, peers, and athletes. She is welcoming to every student at Starr's Mill and goes out her way to make sure her students are having a good day.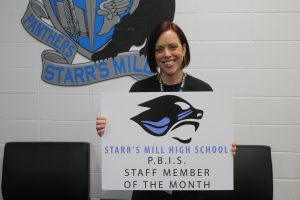 "[Hayward] is so positive. She is just awesome," Meeks said. "She looks out for everybody — she looks out for students, she looks out for her own students, [she looks out for] all the students at Starr's Mill and also the teachers here as well." 
Other faculty and staff receiving nominations for the month of October included paraprofessional Marcie Comeau and assistant principals' secretary Heather Smith.
Once a month Andrea Freeman, the assistant principal in charge of PBIS, sends out a link for staff members to nominate students and teachers on their good behavior. The PBIS committee, composed of Freeman, PBIS coach Adriah Williamson, and other faculty and staff, vote on the PBIS staff and students of the month. 
"[PBIS] a system and a framework that rewards students for positive behavior," Freeman said. "Research tells us that when we work in an environment that rewards positive behavior, rather than focusing on the consequences from negative behavior, then students and staff will internalize those behaviors better and more effectively."
Leave a Comment