January PBIS recipients get early start to success
PBIS has announced Student of the Month and Staff Member of the Month recipients for the month of January.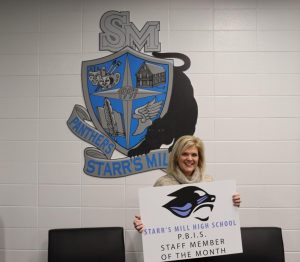 Learning specialist Jodi Christensen nominated learning specialist Paula O'Shields, because she is new to the special education department and is already really far ahead. She always gives the parents positive feedback. 
Other nominated staff members include CTE teacher Adriah Williams, attendance secretary Bettina Zeeb, and English teacher Whitney Shoemaker. 
Learning specialist Jodi Christensen also nominated underclassman Kiana Robinson.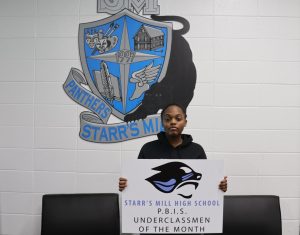 "She just jumped right in and made some friends. She figured out how Starr's Mill works. Kiana is outgoing and jumps in and asks questions if she doesn't understand," Christensen said. "She is really strong in and out of school and figuring out who to go to for help." 
Other nominated underclassmen included freshmen Christian Gray-Frasca, Jared Moore, and Bianca Reyes-Cruz.  
CTE teacher Patt Coleman nominated upperclassman senior Tyler Ercole. She praised him for getting up every morning and coming to school early so he can set all of the equipment for the announcements.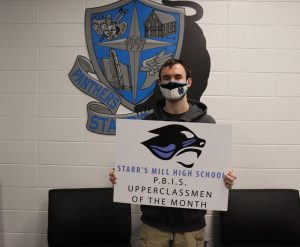 "Tyler comes in early every morning and turns on all the equipment and he will fill in any position that is needed," Coleman said. 
Other nominated upperclassmen included seniors Casper Krabsen Jensen and Haley Perini. 
Once a month Andrea Freeman, the assistant principal in charge of PBIS, sends out a link for staff members to nominate students and teachers on their good behavior. The PBIS committee, composed of Freeman, PBIS coach Adriah Williamson, and other faculty and staff, vote on the PBIS staff and students of the month. 
"[PBIS] is a system and a framework that rewards students for positive behavior," Freeman said. "Research tells us that when we work in an environment that rewards positive behavior, rather than focusing on the consequences from negative behavior, then students and staff will internalize those behaviors better and more effectively."
Leave a Comment