March PBIS winners bring help and positivity to the classroom
PBIS has announced its Student of the Month and Staff Member of the Month recipients for the month of March.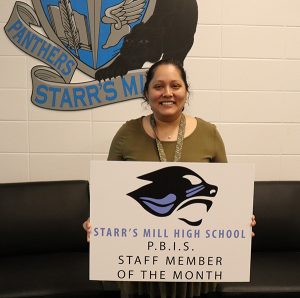 Learning specialist Mary Lehman nominated sign language interpreter Sam Vivaldo because she stepped in at a IEP meeting with students that speak Spanish. She did an amazing job understanding the student's and communicating with the parents. Lehman noted that Vivaldo makes herself available to assist others in need. 
"I nominated Sam Vivaldo because she helped me in a parent/teacher meeting where I needed an interpreter for a Spanish speaking family," Lehman said. "She did an amazing job translating the language and helping the parents feel comfortable through the entire meeting."
Other staff member nominees include: math teacher Heather McNally, English teacher Brandon Kendall, ESOL teacher Valerie Hughey, athletic director administrative assistant Stacy Nichols, special education teacher Jennifer Devine, and family consumer science teacher Adriah Williams.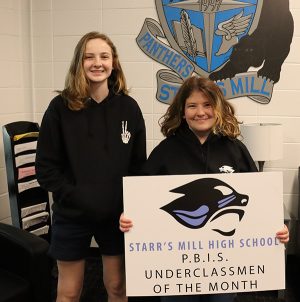 English teacher Brandon Kendall nominated freshman Ava Hendrie because she always volunteers to answer questions and she helps out the class in whatever way she can. She is a cheerful person and very positive around others. 
"I chose Ava because she always brings genuine positivity to class everyday," Kendall said. "She has a fun, jovial spirit that I sincerely appreciate, because that added levity in my class really makes me and others happy."
Learning specialist Mary Lehman nominated Kylie Domangue because she always puts others' needs before her own. Kylie understands when a student is struggling with assignments and is willing to help even with the little things. Kylie likes to see her classmates succeed. 
"I nominated Kylie Domangue because she is always helpful to her classmates," Lehman said. "She comes to class with a great attitude and loves sharing her ideas with others."
Other underclassman nominees include: freshmen Jenna Amir, Lyla Caplan, Joshua Lawson, Gabe McBryde, and Avril Smith, and sophomores Diana Baidoo and Lexie Van Landeghem.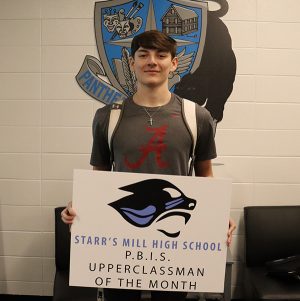 Learning specialist Jodi Christensen nominated senior Evan Slagel because he helped out a girl that was not sure about taking the EMT class. Evan answered all of  his classmate's questions and was very helpful to others. 
"Sam is such a positive person, who is willing to help out in any situation. She recently interpreted for a parent meeting, which is not her assigned duty," Christensen said. "People can tell that she loves her job because she is always positive & upbeat."
Other upperclassman nominees include: juniors Emily Quina and Faith Henry. 
Once a month Andrea Freeman, the assistant principal in charge of PBIS, sends out a link for staff members to nominate students and teachers on their good behavior. The PBIS committee, composed of Freeman, PBIS coach Adriah Williamson, and other faculty and staff, vote on the PBIS staff and students of the month. 
"[PBIS] is a system and a framework that rewards students for positive behavior," Freeman said. "Research tells us that when we work in an environment that rewards positive behavior, rather than focusing on the consequences from negative behavior, then students and staff will internalize those behaviors better and more effectively."
Leave a Comment