PBIS winners showcase strong beginning to school year
PBIS has announced its Student of the Month and Staff Member of the Month recipients for the month of August.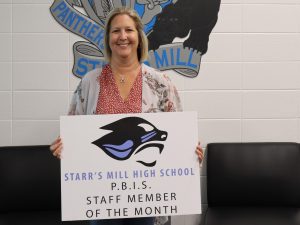 Math teacher Tony Kluemper nominated math department chair and teacher Kristin Peavyhouse because she has worked very hard and had a great comeback as a department chair teacher. Peavyhouse helps out in the math department with needs and puts in a lot of work and supports the math department staff and students. 
"Mrs. Peavyhouse took over as math department chair at the end of last year and this is kind of her first beginning of the school year doing that," Kluemper said. "She has done a tremendous job, she stepped up her plate, she has our backs, and she's really spent a lot of time working on that." 
Other staff members nominated include English teacher Shad Genovese, economics teacher Walt Ellison, science teachers Christie Leanza and Staci Killingsworth, deaf and hard of hearing teacher Anna Martin, special education paraprofessionals Allison Tumblin and Rosann Patterson, paraprofessional Marcie Comeau, LEA Diane Kurbes, learning specialist Lindsay Blythe, administrative assistants Kirsten Brooks, Dana Clevenger, and Judy Dillon, and head custodian Tri Ha.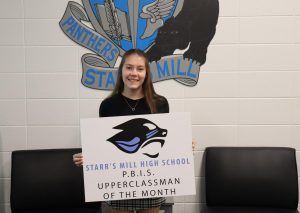 Chorus teacher John Odom nominated senior Annabella Orndorff for being responsible. Annabella helped out a lot this past summer with the Jazz Choir. She made time to plan a meeting for the class to meet and practice, and she helped a student that was out for a few days by checking on her to see how she was doing. 
"She was so helpful even at the beginning of the year and before the year started in the summer. She is the president of our Jazz Choir. She was reaching out to the new students and trying to make them feel comfortable," Odom said. "I thought that showed a lot of determination and a lot of planning ahead and respect for the group."
Other upperclassmen nominated this month include juniors Ava Newell and Jordany Guerra, and seniors Abigael David, Jax Rainey, Dylan Aguilera-Morton, Reese Brown and Aniyah Hunter.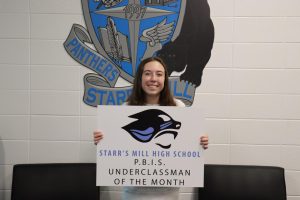 Math teacher Heather McNally selected freshman Katie Gutshall because she has always been respectful and kind to her peers. She has helped out students in the past who did not have partners for group work and volunteered to be their partner. 
"I chose Katie because she is sweet, respectful and she goes out of her way to work with people that don't always have someone else to work with," McNally said. 
Other underclassmen include freshmen Crista Alarcon Suarez, Avery Taylor and Qiyi Lin, and sophomores Avril Smith, Ella Long, Erica Hamil and Chloe Wallace. 
Once a month Elise Heaton, the assistant principal in charge of PBIS, sends out a link for staff members to nominate students and teachers on their good behavior. The PBIS committee, composed of Freeman, a PBIS coach, and other faculty and staff, voted on the PBIS staff and students of the month. 
"The PBIS program at Starr's Mill helps us focus on the three core values that we want all of our students and staff to exhibit on a daily basis: respect, accountability, and responsibility," assistant principal Elise Heaton. "So with PBIS and focusing on these three things we can celebrate the positive things going on in our building instead of the negative things, which will hopefully encourage others to show those positive values as well."
Leave a Comment