PBIS announces October recipients
PBIS has announced its student and staff member nominations for the month of October. 
Special education teacher Jodi Christensen and assistant principal Elise Heaton nominated English teacher Juliana Wright. Wright works hard in ensuring her students have as many opportunities as possible to improve their grades and understand the work by supporting and providing them with remediation assignments and retest opportunities in order to receive as much credit as possible. She also spends additional hours after school during the week to grade and create class content for her students, along with being supportive and encouraging to her fellow staff members as well.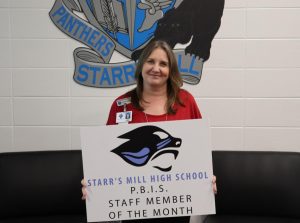 "The three PBIS values at our school are to be respectful, accountable, and responsible. This month I nominated Wright because I feel like she always exemplifies all three of those values on a daily basis. She goes out of her way to support her students, and does whatever it takes to help them succeed and grow," Heaton said. "She's also very encouraging and supportive of the other staff members here and teachers that she works with, and she's very good at stopping by and checking in on her colleagues and other teachers, making sure that they have everything they need."
Other staff members nominated include Infinite Campus clerk Kirsten Brooks, special education teachers Laura Harbin and Allison Tumblin, assistant principals Elise Heaton, Andrea Freeman and Shane Ratliff, math teachers Derek Adams, Kristin Peavyhouse and Emily Sweeney, physical education teacher Peyton Dean, English teachers Whitney Shoemaker and Tara Burnette, band director Scott King, world language teacher Shayne Thompson, and career and technology teacher Rob Bell. 
Career and technology teacher Hope Via nominated junior Zoe Leonard for being responsible. She said that Zoe is always there to lend help by completing tasks that others do not want to do. When she notices that something needs to be done, Leonard does not hesitate to do it even though it may not be her responsibility.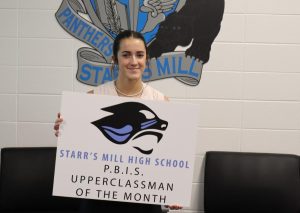 "Zoe is one of my most responsible students in the Early Childhood Education classroom.  In the preschool classroom, I can count on her to help make sure everything runs smoothly," Via said. "If she sees something that needs to be done, she steps in and does it without being asked."
Other upperclassmen nominated include juniors Rhenart Hernandez, Andrew Durham, Mia Morrow, Alex Yang, Maggie Kluemper and senior Hayden Andrews.
Jessica Tatum nominated sophomore Mia Jardot for being responsible because she showed dedication and responsibility in the development of her Science Fair project. She learned new techniques to evaluate her results and was a good example for other students to complete assignments in class. 
"I nominated Mia because she always goes above and beyond to try to not only understand the content, but to ask questions just because she's curious and interested," Tatum said. "She also tries to be responsible with everything, and she checks with me for a lot of information, and what she's supposed to do everyday, and whenever I look over her work, then I can see that she has taken precautions to go above and beyond in all explanations in what she does."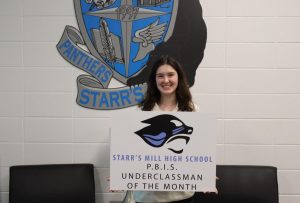 Other underclassmen nominees included freshmen Sanaya Patel, Kayla Kehayes, Logan Thompson, Alaina Murdock, and Olivia Garner, and sophomores Jason Lopez, Landon Noel, Phoebe Jones, Vivian Anderson, Chris Green, Abby McSpaddin, Allie Thomas, Dayvon Collier, Landon Peacock. 
Once a month Elise Heaton, the assistant principal in charge of PBIS, sends out a link for staff members to nominate students and teachers for their good behavior. The PBIS committee, composed of Heaton, a PBIS coach, and other faculty, voted on the PBIS staff and students of the month. 
"PBIS is important because it provides a framework for us here at the school to promote positive behavior, and put more of a spotlight on things that students and staff members are doing well and doing correctly versus focusing on negative behaviors or mistakes that people make. So it's really highlighting the positive, and showcasing the positive," Heaton said.
Leave a Comment