Lucy Liu: Making inspiration a reality
For years, junior Lucy Liu has been finding videos and recipes online and gathering ingredients to duplicate dishes and treats with a twist. She is now sharing that inspiration with others.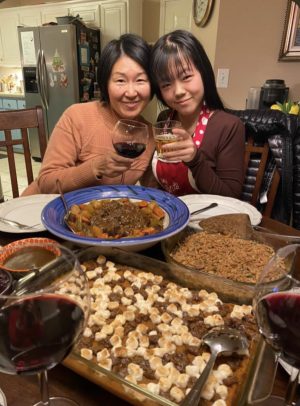 "I search up homemade recipes for whatever dish I want to do and click on the most appealing photo. I also search for copycat restaurant recipes," Liu said. "One cute website I like is called Loveandoliveoil.com." 
She has been asked by neighbors and friends to make and decorate cakes and sweets. Whenever a classroom holds a food day, she makes a platter of her own creation to share with the class. 
This year, in Sean Hickey's psychology class, Liu shares her homemade sugary delights on "Food for Thought" days. She most recently made donuts for the class.
Liu got her inspiration from watching five-minute craft videos in elementary school. She got her recipe from the internet, and made an ample batch of donuts with the batter for her classmates and friends.
"I made the dough with a stand mixer, and after fermentation, I rolled it out and used various cookie cutters to make shapes such as the classic circle with the hole in the middle, a heart, and a gingerbread man," Liu said. "The rest was given to my family, and although they disliked sweets, I always knew the right amount of sugar to use for a perfect amount of sweetness." 
Liu has made meals for several occasions, including her family's entire Thanksgiving dinner, and popular pastries such as cinnamon rolls. 
In the future, Liu plans to make cupcakes for her psychology class.
Leave a Comment