February PBIS winners chosen for compassion and preparedness
PBIS has announced its Student of the Month and Staff Member of the Month recipients for the month of February. 
Math teacher Heather McNally nominated English teacher Whitney Shoemaker because she does an outstanding job helping her students feel comfortable in her classroom. Shoemaker goes beyond assisting them to feel important.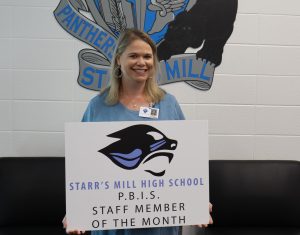 "I think Mrs. Shoemaker has a wonderful personality and a great relationship with her students," McNally said. "She is compassionate and caring."
Other staff members nominated include attendance secretary Brandy Hearing, English teachers Patrick Cheney, Jill Bowen, and Justin Spencer, science teachers Kelly Rock and Amy Hinote, history teacher John Steiner, special education parapro Lynn Peterson, learning specialist Paula O'Shields, guidance counselor Meshanna Marcus, front office secretary Heather Smith, assistant principal Andrea Freeman, cafeteria staff member Paula Sangster, and math teachers Vicki Morgan and Tony Kluemper. 
English teacher Kelly Corallo nominated junior Pablo Devarez because he helped out a student before his game. He ran with her and gave her advice to help her finish in under eight minutes.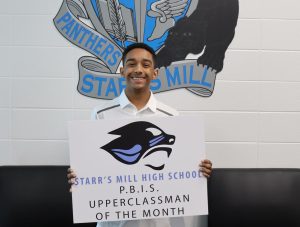 "Pablo is consistently nice to anyone he meets. He goes out of his way to be a friend to anyone who seems to need one and makes everyone who meets him feel welcome and seen," Corallo said. "What I most appreciated about the whole interaction was that Pablo genuinely just wanted to help her. Before that day, the two students had never spoken to one another, and considering that his own game was coming up soon, he could have easily watched her run without any guilt. Despite that, he chose to be supportive and kind without trying to impress anyone or get recognition." 
Other upperclassmen nominees included juniors David Baker, Jessica Corrado, Cecily Shaber, Damon Vensel, and senior Hayden Andrews. 
Science teacher Austin Enriquez nominated freshman Madeline Carpenter for being responsible. She has been responsible for completing all her work in class and at home, if needed.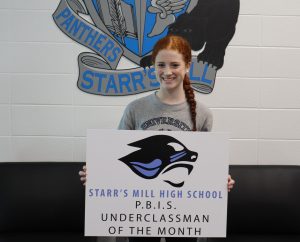 "She's always on task when we are in the classroom," Enriquez said. "I've seen her showing up early and doing work in other classrooms."
Other underclassmen nominated included sophomores Tori Poliak, Brian Hobmann, Isabella McBride, Chris Peckett, Micah Freeman, Miwa Fujita, Madeline Johnson, Maci Morrow Chris Peckett, and freshmen Caleb Burnette, Tyler Henriksen, Jacob Kroskey, and Bryson Pegg. 
Once a month Elise Heaton, the assistant principal in charge of PBIS, sends out a link for staff members to nominate students and teachers on their good behavior. The PBIS committee, composed of Freeman, a PBIS coach, and other faculty and staff, voted on the PBIS staff and students of the month. 
"The PBIS program at Starr's Mill helps us focus on the three core values that we want all of our students and staff to exhibit on a daily basis: respect, accountability, and responsibility," assistant principal Elise Heaton. "So with PBIS and focusing on these three things we can celebrate the positive things going on in our building instead of the negative things, which will hopefully encourage others to show those positive values as well."
Leave a Comment