April winners chosen for responsibility and respect
PBIS has announced its Student of the Month and Staff Member of the Month recipients for the month of April. 
Science teacher Melissa Beaulieu nominated Spanish teacher Shayne Thompson because she was in charge of the organization for this year's prom, and she did an amazing job in planning everything out and making sure the students had a great time.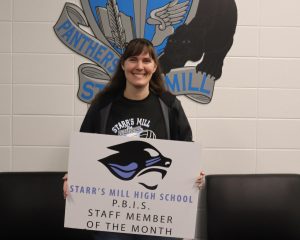 "She did so much for prom," Beaulieu said. "She took the lead on dealing with all the groups we had to work with." 
Other nominated staff members include English teachers Tara Burnette, Shad Genovese, and Justin Spencer, science teachers Austin Enriquez and Christie Leanza, and special ed. Laura Harbin, ESOL teacher Valerie Hughey, Spanish teacher Madeline Rodriguez, library staff IIona Canada, principal Allen Leonard, and assistant principal Shane Ratliff. 
Spanish teacher Madeline Rodriguez nominated senior Benjamin Bredahl because he has been working hard throughout the school year, and has learned patience, and many proficiency skills in Spanish 3.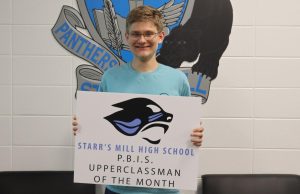 "Ben is an outstanding student, very close to my heart, and he has shown so much growth in the Spanish 3 class that is just amazing. He displays how to be respectful, accountable, and responsible in all ways." Rodriguez said. "Spanish 3 can be a little challenging and he stepped up to what was required. He was always trying to do his very best at asking questions and that has made him the top student of the class that he is in." 
Other upperclassmen nominated include juniors Katie Johnson, Sam Killen, Ikemu Shigeta, and seniors Alyssa Daigle and Courtney Tucker. 
Math teacher Heather McNally nominated freshmen Ella Campbell because she has been an excellent student. She is a kind and positive student. She manages to get all her schoolwork done and go to practice.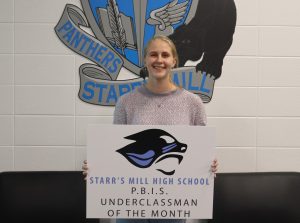 "I chose Ella because she is an extremely responsible, sweet, well-rounded student. She cares about her grades, extracurricular activities and sports, and she puts time and effort into everything," McNally said. "She is kind and respectful, and I have truly enjoyed teaching her and getting to know her this year." 
Other underclassmen nominated include freshman Alonzo King, and sophomores Emily Aguilera-Morton, Blerta Basha, Jessica Doyle, Cora Harris, Hannah McBryde, and Caden McKinney. 
Once a month Elise Heaton, the assistant principal in charge of PBIS, sends out a link for staff members to nominate students and teachers on their good behavior. The PBIS committee, composed of Freeman, a PBIS coach, and other faculty and staff, voted on the PBIS staff and students of the month. 
"The PBIS program at Starr's Mill helps us focus on the three core values that we want all of our students and staff to exhibit on a daily basis: respect, accountability, and responsibility," assistant principal Elise Heaton. "So with PBIS and focusing on these three things we can celebrate the positive things going on in our building instead of the negative things, which will hopefully encourage others to show those positive values as well."
Leave a Comment