PBIS has announced its Student of the Month and Staff Member of the Month recipients for the month of August. 
Math teacher Wendy Willoughby nominated teacher Emily Sweeney because she had shown great responsibility and has worked very hard with each task she's been given to begin the school year.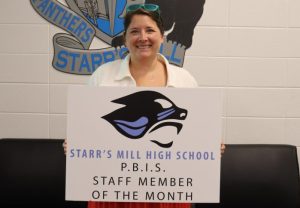 "She was ready to take over the lead teacher position for advanced algebra and had already invested a good bit of time creating the first unit plan," Willoughby said. "Mrs. Sweeney's role as the lead advanced algebra teacher was even more significant this year with the complete roll-out of all new curriculum for most all high school math courses." 
Other nominated staff members include math teachers and J.B. Campbell, Michelle Genovese, Heather McNally, Paula O'Shields, English teachers Tara Burnette, Kelly Corallo, Terence Fitzgerald and Julliana Wright, science teacher Staci Killingsworth, health teacher Peyton Dean, learning specialists Jason Flowers and Katherine Sevy, and guidance department secretary Stacy Nichols.
English teacher Bonnie Stanford nominated senior Kaden Smith because he is always ready for class, helpful, and respectful to his classmates and teachers.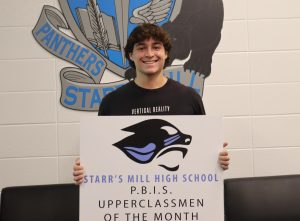 "I nominated Kaden because he is a great example of a SMHS student-athlete," Stanford said. "He comes to class prepared, he is engaged and hard-working, he has a positive attitude and a smile on his face, and he is a wonderful mentor for our underclassmen on the field but most importantly in the classroom."
Other upperclassmen nominated include juniors Blerta Basha, Adam Bauer, Evan Fish and Ryan Sexton, and seniors Tani Alofe, Allie Bernard, Aaron Campbell, Klein Flower, Cayden Mullins, and Carson Schmidlkofer. 
Assistant principal Brandi Meeks nominated freshman Harrison Marsalis for going beyond in making sure that students matter and have a special place in the school.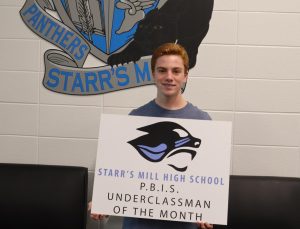 "He took time out of his schedule to make other people feel important and that was really kind," Meeks said. "Sometimes it takes just a second to let people know you think about them, and I think it sets an example for everybody."
Other underclassmen nominated include freshman Zachary Newman and sophomores Anna Bleil and Katie Gutshall. 
Once a month Elise Heaton, the assistant principal in charge of PBIS, sends out a link for staff members to nominate students and teachers on their good behavior. The PBIS committee, composed of Freeman, a PBIS coach, and other faculty and staff, voted on the PBIS staff and students of the month. 
"The PBIS program at Starr's Mill helps us focus on the three core values that we want all of our students and staff to exhibit on a daily basis: respect, accountability, and responsibility," assistant principal Elise Heaton. "So with PBIS and focusing on these three things we can celebrate the positive things going on in our building instead of the negative things, which will hopefully encourage others to show those positive values as well."