Cuando le preguntas a ingeniero puertorriqueño Edgar Rivera Hernande sobre sus mayores influencias, su única respuesta es contarte sobre su familia. Su abuelo especialmente fue alguien que lo inspiró a sacar su familia adelante.
"Mi abuelo ha sido gran influencia porque él es una persona que tiene unos valores increíbles y es extremadamente trabajador." Hernandez dijo
Como adolescente, Hernandez se empezó a interesar en las computadoras y cuando alguien necesitaba algo de software, él siempre podía arreglarlo. Cómo fue creciendo, se dio cuenta que lo que más le interesaba era la parte de negocio porque le daba la oportunidad de entender y averiguar cómo funcionan las cosas y usar su pensamiento crítico. El estudió casi toda su carrera en Puerto Rico hasta que se mudó a los Estados Unidos. 
"Siempre yo estuve bien interesado en cómo las cosas funcionan," Hernandez dijo.
Un obstáculo que Hernandez vio llegando a los Estados Unidos fue su acento. Muchas personas en la industrialo veian como menos capaz solo por no hablar un inglés perfecto pero, Rivera en lugar de frustrarse, decidió dedicarle más tiempo y esfuerzo al trabajo y salir mucho más adelante que todos los demás.
"Yo diría que son retos pero yo como lo veo es que si no tuve algo" Hernandez dijo. "O algo puedo insinuar que es por mi background o porque el inglés no es mi primer idioma, yo lo que trato de hacer es enfocarme en cómo lo puedo ajustar y cómo puedo cambiar su percepción." 
Hernandez está a cargo de todas las operaciones de negocios en las oficinas de Georgia, desde asegurándose que todos los proyectos están complaciendo a los clientes hasta buscando nuevos proyectos para su compañía RoviSys.  
En RoviSys, todo el mundo tiene la oportunidad elegir su propio camino, gran parte de lo que él quiere poder hacer es ayudar a que esa integridad de la compañía siga ahí, pero su mayor meta es ser como su abuelo.
"Yo literalmente lo que quiero es ser mi abuelo para mi hijo." Hernandez dijo.
My family is my biggest motivation: Edgar Rivera Hernandez
When Puerto Rican engineer Edgar Rivera Hernandez was asked about his main influences, his only response was to talk about his family, especially his grandfather who inspired him to help his family get ahead.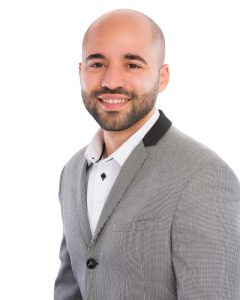 "My grandfather has been a big influence because he is a person with incredible values and is extremely hardworking," Hernandez said.
As a teenager, Hernandez started to form an interest in computers. Whenever someone needed help with software or anything like that, he was always able to fix it. As he grew up, he realized that what interested him most was the business part of the industry because it gave him the opportunity to understand and figure out how things work but also use his critical thinking skills. He studied almost all his career in Puerto Rico until he moved to the United States.
"I've always been very interested in how things work," Hernandez said.
An obstacle Hernandez faced when he moved to the United States is how people treated him with his accent. Many people in the industry saw him as less than for not speaking perfect English but Rivera decided that instead of getting frustrated, he decided to dedicate more time and effort to the work he does to get way ahead of everyone else.
Hernandez is in charge of all the business operations in Georgia, from making sure all of the projects are up to the customers' standard to looking for new projects for the company RoviSys.
At RoviSys, employees are able to choose their own pathway and a big part of what Hernandez wants to do is to help keep the integrity of the company there. His biggest goal is to one day be like his grandfather.
"I literally want to be who my grandfather was to me for my son," Hernandez said.