Mike Raymer, a former teacher at Starr's Mill, has been creating economics books for children with his former student Ashley Byard since 2021. These books feature the economic adventures of his two cats, Earl and Starla.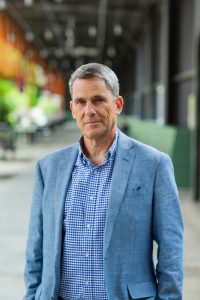 "We found that there aren't any books out there for children that are about economics, so I figured that I would create a book and help fill that space," Raymer said. "That's how it all started, just sort of saying it out loud."
Raymer is currently the executive director of the Georgia Council on Economic Education. This organization helps teachers all over the state by putting together training workshops where lesson plans are created so teachers can understand and teach the subject better. The teachers who participate in these workshops return to their classrooms the next day and implement the resources given to them for their students. 
Raymer had been working with these workshops for years, but after the COVID-19 pandemic began cooling down in 2021 and Raymer returned to his office, he had the idea to write a book about economics at an elementary school reading level, and his team held his word for it.
Raymer wrote the books himself and checked the wording with the help of GCEE program director Angie Battle. Battle was a former elementary school teacher, so she helped Raymer ensure that the wording was not too difficult for third graders to read. 
After the writing process was complete, Raymer realized he needed an artist to illustrate the story for him. 
"That's when I thought of Ashley, my former student who is an artist," Raymer said. "When I had her back in 2000, many years ago, she would come in every day and draw doodles on my board. I remembered that and reached out to her."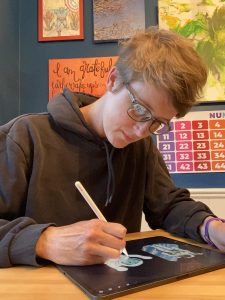 After Byard agreed to illustrate for Raymer, the book process was in full motion. Raymer planned the illustrations with stick figures he sent to Ashley and explained them over Zoom calls. From there she worked her magic and transformed the stick figures into artful illustrations. 
"Illustrating a children's book was always something I thought would be really cool to do," Byard said. "I didn't know what it entailed, but learning a new art medium is always a great challenge."
After months of drawing, proof-reading, and printing, the first book, "Earl and Starla Want ALL the Fishy Treats," was completed in May of 2021. From there, Raymer and his team distributed the books to thousands of elementary school classrooms across the state of Georgia. 
"Thousands of teachers have received these books, and they're sharing the information with their students, so tens of thousands of elementary school students throughout Georgia are learning about economics through these books," Raymer said.
After the first book was published, two more came to follow. All three of his books so far are titled as follows: "Earl & Starla Want ALL the Fishy Treats," "Earl & Starla Go to the Farm," and "Earl & Starla Go to a Federal Reserve Bank."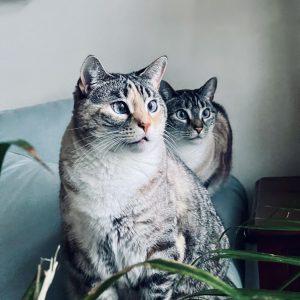 Raymer and Byard are currently working on a fourth book, which will be centered around the economics of science standards, and Earl and Starla will travel to space. 
"Fourth and fifth grade students in Georgia are going to learn about space travel and NASA and the benefits of going to space and that kind of stuff," Raymer said.  "We're excited about this one because what's neat is that NASA has real photos from space that you can just use, so we're going to have some actual real photos in our book from outer space."
With multiple books under his belt and as more ideas continue to flow, Raymer continues to reach out to Byard to illustrate more for him and each book published is an improvement from the last.
"The best part for me was working with a former student," Raymer said. "Without her, this could never happen, and the cool thing was getting in touch with her again and working more creatively with her and making some cool books."
The books created by Raymer and Byard continue to spread to elementary schools and other councils on economic education across the country.