Transitioning into fall fashion
As September begins, students and teachers are settling into their routines. The weather is doing its crazy dance between blazing hot and comfortably warm, and outfits around the Mill are reflecting this change. Leggings and sweatshirts are making their comeback while shorts and summer blouses are still in full force.
Jean jackets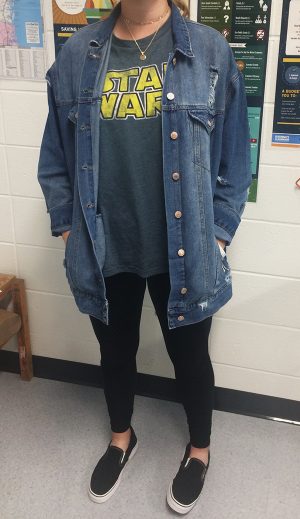 Senior Madison Corkill sports an oversized jean jacket over a graphic tee and leggings. The distressed denim look will be a major trend this fall. "I really love how versatile the denim jacket is," Corkill said. Starr's Mill students have already been seen wearing denim outfits, but they are becoming even more popular for autumn.
Corkill's graphic tee also follows the upcoming trends this fall. Clothes with a vintage or grungy look are in style this year. Old band or movie T-shirts can create comfortable outfits that look incredibly chic.
"I like shopping at thrift stores because I can find clothes that are coming back in style for a good price," Corkill said.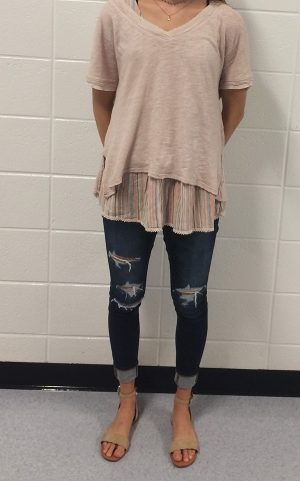 Layered shirts
"I am so excited for the fall season because I love the more cozy fashions," senior Isabelle Bowman said.
Bowman is jumping right into the fall season by wearing a layered, long T-shirt from Free People. She tends to dress comfortably but switches it up every once in a while. By wearing clothes from stores like Free People and Anthropologie, she is able to stay on trend and wear unique clothing that is not typically seen around the Mill.
Students at the Mill are trying to incorporate fall trends like distressed jeans, layered tops, chunky sweaters, and booties more frequently as the weather changes.
We will begin to see more of a full transition into fall fashion as soon as the weather significantly changes, but for now, students are stuck in the limbo between shorts and sweaters.