Golden Apple – Brandon Kendall
This month's Golden Apple recipient is English teacher Brandon Kendall. 
Science teacher Amy Hinote chose Kendall to be the teacher of the month because all of his students love him and he gets to know them as a person.
"Kendall is willing to go the extra mile and help them anyway he can to make sure they understand what he is teaching."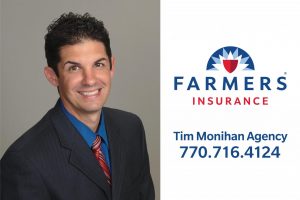 Kendall thinks he was chosen because his students share the same class as Hinote. Hinote teaches biology to freshmen, and Kendall teaches 9th grade English.
Kendall has taught at Starr's Mill for 10 years. He sponsors the birding club and the gay-straight alliance.
"I want my students to be better individuals who think for themselves," Kendall said. "I want them to confront big ideas that cause them to perhaps rethink their place in the world. I try to give them material that they'll find interesting and engaging." 
He believes that what sets him apart from other teachers is that he focuses more on the students acquiring life skills and on improving their character. 
Farmers Insurance gives each Golden Apple recipient $100 to spend in the classroom or for teaching necessities. Kendall plans to spend the money on new books for his students to be able to read and enjoy in class. 
Kendall will also receive one large pizza from Bucks and a gift certificate for Lisa's Crêperie in Senoia.
Leave a Comment