Golden Apple – Lauren Kuykendall
Theatre director Lauren Kuykendall has been recognized as the December Golden Apple award recipient. 
Economics teacher Walt Ellison chose Kuykendall after conducting a survey among students to see what teacher they found the most deserving of the award.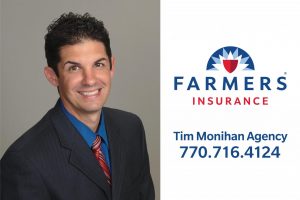 "I wanted to honor her for what she does in the classroom and what she does outside the classroom," Ellison said.
According to Ellison, Kuykendall's teaching exemplifies the award's standards because of her commitment to bringing all levels of students together. He also noted how she creates a safe and encouraging environment for her students to grow.
Kuykendall says that her biggest philosophy implemented in her classroom is that teenagers are human too. She says she never wants her students to feel like there is a vast separation between teachers and students. 
"I like to keep it as family-like as possible," Kuykendall said. 
Kuykendall studied at Brenau University earning her Bachelor of Fine Arts in Musical Theatre and an Associates of the Arts in Theatre from the University of North Georgia. 
After graduating, she moved through the professional theatre world, working on shows like "Shrek the Musical," "Oedipus Rex," and "Peter and the Starcatcher." She says that she "accidentally" stumbled upon education in 2017. She wanted something to do during the day that involved theatre and in October 2020 she started working at Starr's Mill. 
Thespian Society, Starrstruck Improv Troupe, and directing the musical/one act play are just some of the activities that Kuykendall participates in along with teaching her classes throughout the day. She says she spends time with her family, leads music at church events, and paints in her free time.  
"I was pretty surprised," Kuykendall said. "I'm still pretty new here, so it was really neat."
Kuykendall receives $100 from Farmers Insurance to use in her classroom. Kuykendall plans to use the money on expenses revolving around the musical including costuming, sets, music, and show rights.