Golden Apple – Nick Castagna
This month's Golden Apple recipient is math teacher and JV boys soccer coach Dr. Nick Castagna.
Teacher and softball coach Mark Williamson chose Castagna as this month's recipient after talking to one parent whose child complimented Castagna's efforts in the classroom.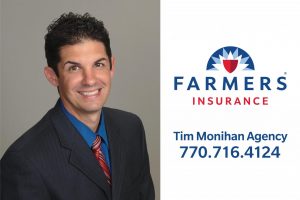 "They had good things to say about [Castagna] and how he is willing to help all of his students," Williamson said. "He seems to genuinely care about the students."
Castgna is in his first year teaching math at Starr's Mill. He previously taught for nine years at Whitewater High School. He is a class of 2007 graduate from Starr's Mill.
"There are so many kids who hate high school. I would gladly go back and live those four years again. I had a blast when I was here," Castagna said. "[I] try to give that 'blast' to some kids in other ways, to make school more enjoyable and give them kind of the experience I had here."
Castagna seeks to showcase his enjoyment and positivity in the classroom. He wants his students to have fun and enjoy their time in the classroom. Through that enjoyment, students can make progress in not only his math class but all of their classes. 
"It is just good to see people who really show up every day and want to be here and want to work with the students," Williamson said. "It is good to see the fire that is in the younger teachers. It keeps you motivated."
Farmers Insurance gives each Golden Apple recipient $100 to spend in the classroom for teaching necessities. Castagna used his funds to purchase a printer for his classroom. 
Castagna also receives a free large pizza from Buck's pizza in Peachtree City, a gift card to Lisa's Crêperie in Senoia, and a free haircut from Mane Hair.
"When a teacher acknowledges that you are doing something right, that is the kind of honor you get goosebumps about," Castagna said.
View Comments (1)