Golden Apple – Rebecca Rickeard
History teacher Rebecca Rickeard is March's Golden Apple recipient. She was selected by last month's winner Jill Snelgrove.
"I chose Rickeard after surveying all of my students," Snelgrove said. "I had overheard several students talking positively about her classes and teaching style."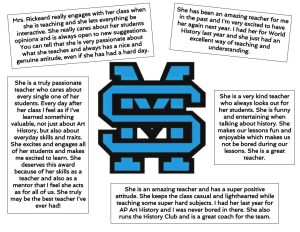 Rickeard enjoys art and history, and loves talking about things she is passionate about. She adores working with students, getting to know them, and being involved in their lives.
"I was floored by [receiving this award]," Rickeard said. "It's nice because teaching is one of those jobs that at the end of the day you know you've worked hard and you've hoped you've made a difference. It's just nice to know that maybe I am making a difference."
Rickeard went to Mercer University, majored in history, got certified in secondary education, and earned her Master's degree in education from Central Michigan. Rickeard started teaching in 1999 after completing her student teacher experience at Starr's Mill. Her entire teaching career has been as a Panther.
Rickeard has taught psychology, sociology, world history, U.S. history, government, AP European history, and AP art history. This year she teaches world history and AP art history. In her free time, she likes to travel, read, and cook.
"I love [teaching]," Rickeard said. "I love history and I love art, and I get to spend all day talking about things that I'm passionate about."
Rickeard will receive $100 from Farmers Insurance to spend on curriculum or instructional needs. She will also receive a free large pizza from Buck's Pizza, a gift certificate to Lisa's Creperie in Senoia, and a free haircut from Mane Hair in Peachtree City.
Leave a Comment