Golden Apple – Anna Martin
Special education teacher Anna Martin is April's Golden Apple recipient. She was selected by last month's winner Rebecca Rickeard.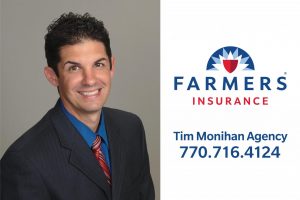 "How much she loves her students and how much works with them," Rickeard said. "She's a role model for them."
Martin's approach to teaching is to let her students take control of their learning while making them feel safe. 
"This doesn't even feel like a job," Martin said. "I love doing this. This is my passion."
This is Martin's first year teaching. She went to Georgia Military College and got her associate's degree in education. She then transferred to Valdosta State to get her bachelor's degree in deaf and hard-of-hearing education, and is currently getting her master's degree online through Valdosta State.
Martin teaches deaf and hard-of-hearing students, but in her free time she enjoys time with her family and being outdoors, especially hiking. 
"I love the people that are in this environment with me," Martin said. "[I love] the relationships I have with my students and the teachers I work with." 
Martin will receive $100 from Farmers Insurance to spend on curriculum or instruction. She will also receive a free large pizza from Buck's Pizza, a gift certificate to Lisa's Creperie in Senoia, and a free haircut from Mane Hair in Peachtree City.
Leave a Comment