Debate Team does well at state, wins Director's Cup
Hickey wins the Speech Coach of the Year award.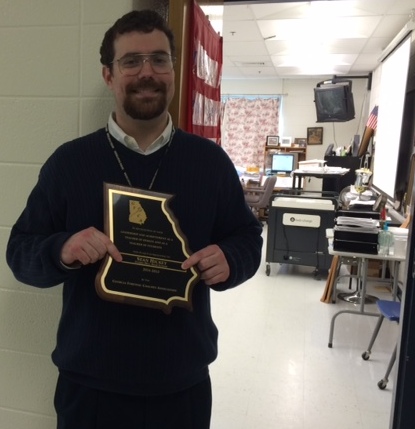 Speech and Debate coaches Sean Hickey and Brandon Kendall helped several of their students accomplish their goals of qualifying and placing at the recent state competition last month at the Marist School in Atlanta. Although the team members' hard work and dedication helped them achieve their goals, Hickey's knowledge and assistance played a major role in the team's success.
Hickey, who has been coaching Speech and Debate for seven years, was also on the Panther debate team when he was in high school. "Being a debater helped give me insight into the process of coaching, and it was extremely valuable," he said.
The Panthers were awarded the Director's Cup for most cumulative points at state. Senior Kevin Sabusay was a semifinalist in impromptu speaking. Seniors Annefloor de Groot and Victoria Justice were octo-finalists in Public Forum debate. Senior Lexi Nails was an octo-finalist in Lincoln Douglas debate. Senior Michael Robinson was a quarterfinalist in Lincoln Douglas debate. Junior Aasim Noorali was a semifinalist in Lincoln Douglas debate. De Groot was fifth overall speaker, and Justice took seventh place. Junior Dhruva Jandhyala came in sixth for extemporaneous speaking.  
"The team did very well considering the talent and competition in the state of Georgia," Hickey said. "Georgia is one of the most competitive states with speech and debate."
Sweetening their performance at the state competition was the news that Hickey was named the Speech Coach of the Year. "I am very humbled," Hickey said. "I am very pleased, but really the credit should go to the students because it's their success that has allowed me to be recognized in the speech and debate community."
Although Hickey credits his team for his award, Kendall said Hickey is a great coach and deserves the recognition.  "Hickey 100 percent deserved the Speech Coach of the Year award because the speech team has had great success all year from the very first tournament all the way down to these last few," Kendall said. "The speech team has been consistently winning or consistently scoring high. That's due in large part because of Hickey's coaching."
Three members, Robinson, Nails and Jandhyala, have qualified for nationals in Dallas on June  10-15.