Band Signing Day leaves noteworthy memories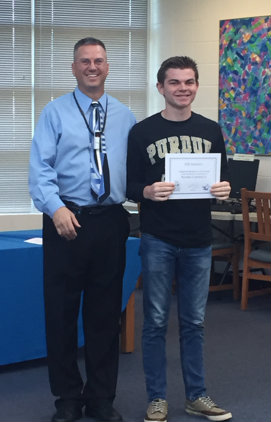 On April 30, Starr's Mill honored the senior band members who will play for a college band. These students were honored at the second ever band signing day in the media center.
"The parents and I were so proud that these students were advancing to the college level," band director Scott King said. "We are so happy that they will take this hard-earned talent to the next level."
The signing day was set up in the library and included a short recognition ceremony. "The signing day looked similar to those of the sport signing days," senior signee Ricky Macke said. "It was really organized and meant a lot to all of us."
A total of eight band members were signed, including:
Alexis Halm, University of North Georgia

Fred Lester, Georgia Southern

Ricky Macke, Georgia Institute of Technology

Elizabeth Ryan, Juniata College (Pennsylvania)

Will Sanders, Purdue University

Nick Scafidi, University of West Georgia

Kacey Yonkovitz, University of Tennessee

Morgan Hebert, Jacksonville State University (full scholarship)
The eight signees totals more than last year, but the amount of scholarship money earned is less because only one full scholarship could be awarded. Regardless, the band signing day left a positive impact on many.
"I speak for everyone when I say that it was amazing to be honored by Mr. King like that," Sanders said. "I feel like we all worked so hard and the signing day allowed us to just sit back and appreciate how far we've gotten, especially Morgan [Hebert]"
Hebert, who plays the trumpet, earned a full four-year scholarship to Jacksonville State University after a representative of the college watched Hebert play. "Auditioning was nerve-racking, but I faced pressure similar to this throughout my years of playing," Hebert said. "I think I was fully prepared, and I ended up impressing Jacksonville State."
King hopes to have even more signees and full scholarships next year. "Although a lot of factors make the skill level of our senior students and the number of signees we have that year hard to compare, we try hard to allow more and more students to play in a college band," King said.