Another success for speech and debate team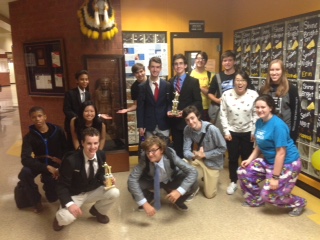 The Starr's Mill speech and debate team's season is currently underway. The team traveled to Carrollton High School last weekend and had great success in making the out-rounds and placing in the events.
"I was very proud of the team's achievements," debate coach Brandon Kendall said. "Some of the public forum students were disappointed because they wanted to place in the top four. However, this was a very high-caliber tournament in terms of opponent quality."
In the last tournament, three of the varsity public forum debate teams made it to the out-rounds, which are the single-elimination playoffs. One team had a win-loss record of 5-2 and the other two teams had a 4-3 record. This helped the overall team make the top 16.
Along with the debate, junior Michael King, who participated in speech events made it to the out-rounds in impromptu speaking and original oratory. The student placed sixth in the impromptu speaking and fifth in the original oratory at the tournament.
"I want the students to do well at the tournaments," Kendall said. "Some state championships would be great. But, honestly, I mostly want them to gain new experiences that they otherwise wouldn't encounter in other settings."
For the overall season, the speech and debate team has placed highly in the all of the tournaments they have attended so far. The team had several returning and several previous students, who are trying both the speech and debate divisions.
"My philosophy is to give the students the ability to lead. Serving leadership is the idea that they [the team] gain experience by modeling the types of speeches and performances they wish to give. I see my role as a support figure," speech coach Sean Hickey said.
The speech and debate team plans to attend several more tournaments until the state tournament, which will be held in March. The students who qualify at the district tournament will have the chance to compete at the national tournament held in the summer.