Starr's Mill athletic programs announce summer camps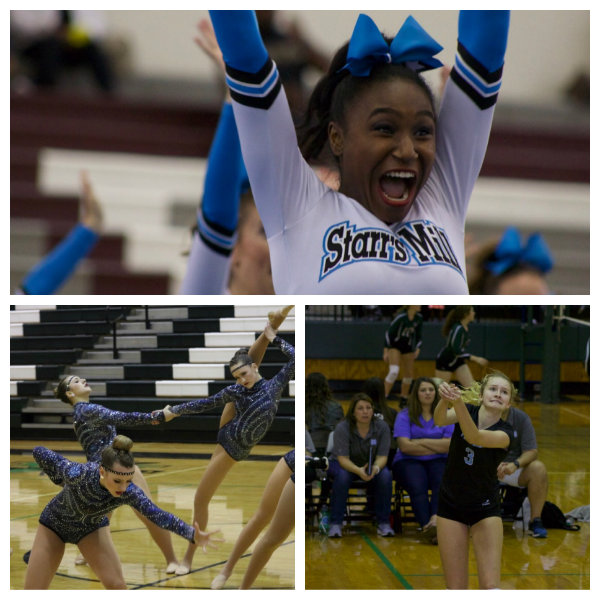 Summer is a great time to experience and have a productive time by being part of the programs going on in the community. To let the students experience a few of the sports at Starr's Mill, cheerleading, dance, and volleyball teams will be holding summer camps.
Cheerleading
Starr's Mill cheerleading team will hold the Cheerleading Kiddie Camp again this year for students kindergarten through fifth grade. The camp will take place June 18-20 from 8 a.m. to 12 p.m. It will be held at the Starr's Mill High School Cheer Building and the cost is $80 which includes a t-shirt and a small snack.

The students are going to be taught cheer, along with some fun activities and games at the camp.
"We are trying to raise interest in the cheer program at Starr's Mill and get students interested in cheerleading," cheerleading coach Heather McNally said. "We are hoping to give them something fun and exciting to do for a few days over the summer."
Dance
The state and national-award-winning Starr's Mill Pantherette Dance Team will host a summer camp for the students rising kindergarten through eighth grade. It will take place June 11-14 from 9 a.m. to 12 p.m. at Oak Grove Elementary School. The cost is $100 including a free t-shirt for all the participants. The registration deadline is June 2.

The participants will be divided in to groups according to age and will be taught dance team technique along with two choreographed routines. Everyone will have the chance to learn a group dance which will be performed in front of the parents and families on the last day.

"The camp helps students to experience dance both as a sport and as a recreational activity," Pantherette dance team coach Sandi Johnson said. "They become part of a team working for a common goal and get to perform and share what they have learned at the end."
Volleyball
The volleyball team will host a summer camp for rising second grade through rising ninth grade students. The event will take place June 5-7 from 12 p.m. to 3 p.m. and it will be at the Rising Starr Middle School gym. The cost is $50 for pre-registration and $60 for walk-up registration. The pre-registered participants will also each receive a t-shirt.
For the three days of the camp, there will be instruction, drills, and games for the students along with fun and active organized games.

"I think it's a great opportunity to be introduced to volleyball and to have fun with friends," volleyball coach Jason Flowers.
All the events will let the students have a hands-on experience and let them learn more about the sports. All the forms for registration can be found on the Fayette Community School website.