Merging deaf culture with academics
Starr's Mill has attended the Academic Bowl the last five years, placing in the highest heats. This year at Model Secondary School for the Deaf, there were a lot of close matches and the Mill was placed in the fifth heat of twenty. Starr's Mill won two and lost two preliminary matches, and were eliminated in the sixteenth round. 
Special education teacher Cindy Hartpence, interpreter Sam Vivaldo, and a few of the students' family members chaperoned the trip.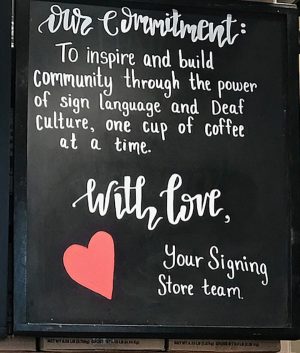 "It's not only the academic part of it," Hartpence said. "It's the students being merged in a deaf culture setting with peers like them."
Not only did the DHH team visit Washington D.C. for the Academic Bowl, the importance of the entire experience was provided for every student. The team saw the Washington Monument, Vietnam Memorial, Korean War Memorial, and the Reflection Pool. 
The highlight of the trip was a stop for coffee at Starbucks. However, this particular Starbucks near the Gallaudet campus was employed by various members of the deaf and hard of hearing community. DHH customers could write their orders on a pad or sign it to employees. It was like a typical Starbucks, but most employees communicated only through sign language. Customers worked on computers and could order normally, so both populations existed in harmony.
"It's like your typical Starbucks," Hartpence said. "There were people there with their computers on the wi-fi that were not deaf. It wasn't just for the deaf population."
Every year, Gallaudet University hosts up to 80 teams of Deaf and Hard of Hearing high school students for four regional and one national competition. The Academic Bowl was established for pursuing academic excellence, promoting beneficial competition, and providing life-long friendships for students.
"We are considered what they call 'mainstream schools' because this is not a deaf high school," Hartpence said. "A lot of schools we compete against are deaf schools and they have a class for the Academic Bowl every day."
The National Academic Bowl of the Deaf and Hard of Hearing was established in 1996 by Astrid Amann Goodstein, Executive Director of Enrollment Services at Gallaudet. That year, only six local schools participated. Over the years, the competition expanded across many regions with an increasing number of schools participating. Rules and formatting adapted to the amount of teams and continue to evolve.