Rapid reports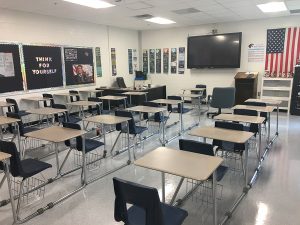 As Starr's Mill finishes the second week of the fall semester, Covid-19 cases and quarantines continue to rise at Starr's Mill. On Tuesday night students and parents received a message from Principal Allen Leonard addressing everyone's biggest concern this year, Covid-19 restrictions. 
With cases on the rise, Starr's Mill has made the decision to bring back some of the Covid-19 restrictions implemented last year to lower the spread in school.
The first of the three new changes happen in the classroom. Teachers are supposed to maximize the distance between students and their peers in the classroom. Unlike last year, teachers do not have to put six feet between their students. Instead, desks need to be three feet apart. 
The cafeteria will also be set up differently for all three student lunches. Lunch tables will now be set up in single rows facing the same direction just like last year. This will help minimize the spread by keeping students apart while they eat.   
The administration will also be limiting gatherings that are over the size of a class. This could apply to any after-school activities such as clubs or events.
Starr's Mill continues to recommend that unvaccinated staff and students wear masks and social distance when possible. Leonard also continues to encourage all students who can receive the vaccine to do so. 
For more information on vaccines and where to get one go to: https://georgia.gov/covid-vaccine. Vaccines, masks, and social distancing are just a few ways that Panthers can help stop the spread of Covid-19 and keep our community safe.